LPCSG Events
Las Positas College Student Government
LPCSG Events
Las Positas College Student Life entities, including Student Clubs, Inter-Club Council, and Student Government, must adhere to all current CLPCCD guidelines regarding the COVID-19 Vaccination Mandate , CLEARED4 vaccine verification, and face mask requirements for in-person meetings and activities. Hybrid modalities are highly recommended whenever possible.
*Authorization to hold in-person meetings and activities are subject to change per the CLPCCD and College President's discretion.

Please refer to the CLPCCD Updates- Coronavirus (COVID-19) website for current information contact Josué Hernández, Program Coordinator of Student Life and Leadership, for further assistance.
Follow LPCSG On Social Media

LPCSG Fall 2022 Events
Please continue to visit this website. Information updated frequently.
Register to Vote
Join the Las Positas College Student Government (LPCSG) to increase student voter participation.
Visit the CA Student Vote website for student voter registration information.
Let's VOTE for our future!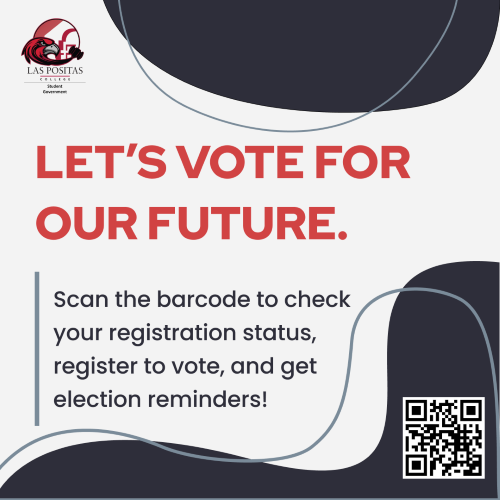 Constitution Day
The Las Positas College Student Government (LPCSG) hosted guest speaker Attorney John Burris of Law Offices of John L. Burris in Oakland on Friday, September 17, 2021 for Constitution Day. Mr. Burris gave a live discussion on your constitutional rights.
Mr. Burris is a civil rights attorney, author, and legal commentator for national and local television, radio, and print media. Practicing law for more than 40 years, Mr. Burris is primarily known for his work in the areas of Civil Rights with an emphasis on police misconduct and excessive force, such as many high-profile cases including Rodney King and Oscar Grant.
Please view the event flyer for more information.