Inter-Club Council (ICC)
The Inter-Club Council is the representative body which coordinates interclub activities and funds, promotes communication and cooperation among clubs on campus. The ICC is composed of a voting representative from each club, representing cultural, educational, honorary, philanthropic, and social interests.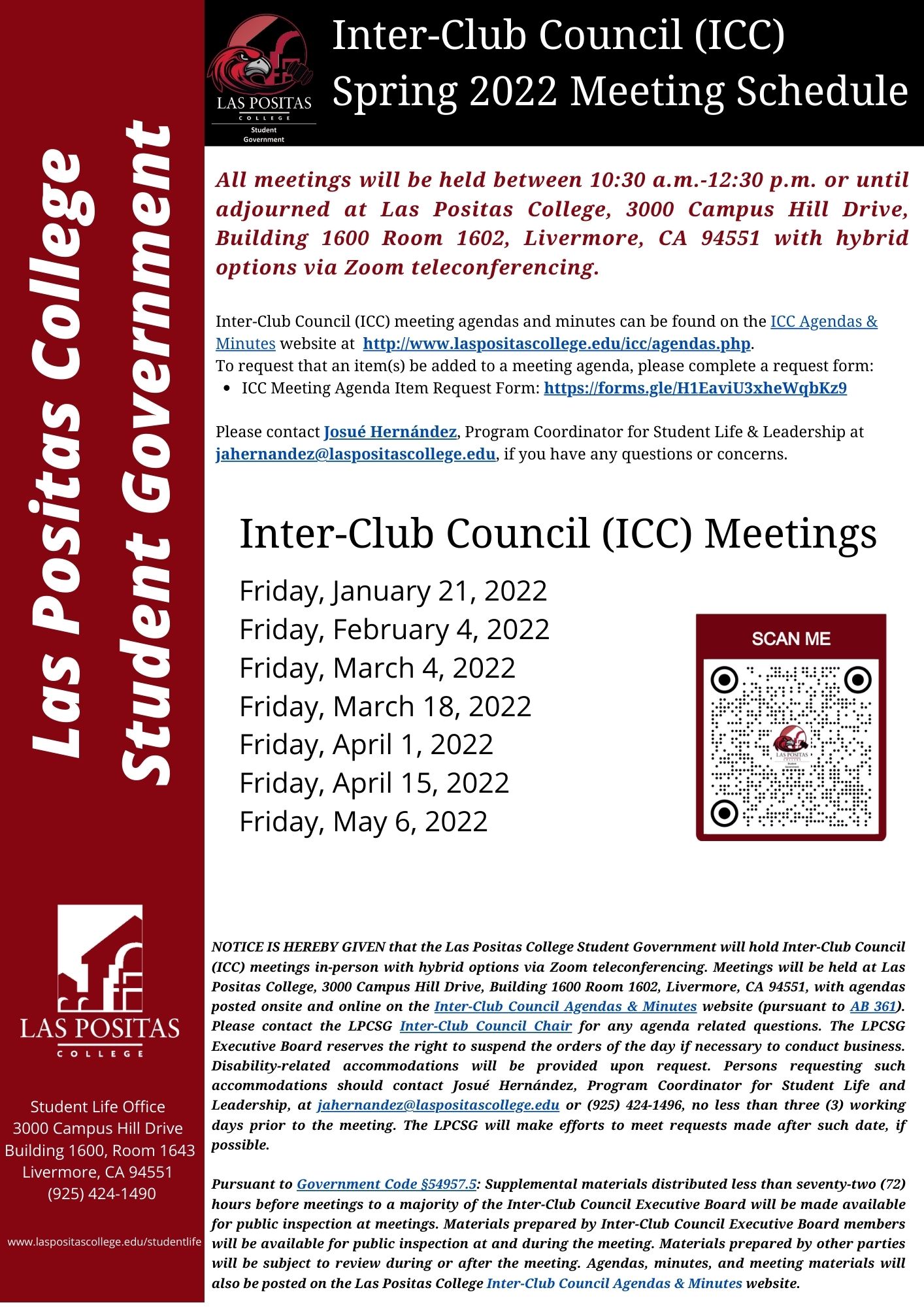 Student Life Office
Building 1600, Room 1643
(925) 424-1490

Please be advised that the Student Life Office is working remotely to serve students through Friday, February 4, 2022.
Online Hours
Monday 9:00 am - 5:00 pm
Tuesday 9:00 am - 7:00 pm
Wednesday 9:00 am - 5:00 pm
Thursday 9:00 am - 5:00 pm
Friday 9:00 am - 1:00 pm


Spring 2022 (February 7, 2022 through June 3, 2022)
In-Person Hours
Monday 9:00 am - 5:00 pm
Tuesday 9:00 am - 7:00 pm
Wednesday 9:00 am - 5:00 pm
Thursday 9:00 am - 5:00 pm
Friday 9:00 am - 1:00 pm

For more information, please contact:
Josué A. Hernández
Program Coordinator, Student Life and Leadership
(925) 424-1494
jahernandez@laspositascollege.edu
Adria Anderson-Kelly
Administrative Assistant
(925) 424-1496
aandersonkelly@laspositascollege.edu
Student Government Leaders
Visit the LPCSG Officers and Senators
webpage for email addresses.

Plans for Spring 2022