Scholarships
Scholarships
Scholarships are funds made available by sources generally other than the government, such as private businesses, organizations, clubs, colleges, etc., for students to help with the costs of their education. Generally students must compete for scholarships. Awards have many different criteria; they may or may not depend on financial need, may be aimed toward a specific major or type of student, may have a high GPA requirement or may not.
LPC Scholarships - Please check back next spring
LPC Scholarships only for LPC Students
Current Scholarships for LPC Students*
Current Scholarships for LPC Students
Outside scholarships are offered from a variety of local, statewide, and national organizations or foundations. The list is updated frequently as new information is received by the college. These scholarship opportuntities are not specifically for Las Positas students, but may be of particular interest to LPC students. Often transfer scholarship opportunities for four year colleges are listed. Deadlines vary greatly, so make it a point to check this list frequently.
Scholarships by Category
Scholarship Search Engine
Resources
Need help wrtiting a scholarship essay?
*IMPORTANT - Las Positas College is not affiliated with and does not endorse any of the Web sites listed. This is simply a compiled list of web resources which may provide helpful information. LPC does not make any warranty regarding the accuracy or reliability of any information provided in this list. Clicking any link listed above will transfer the user to a page not under LPC's control.
Financial Aid


Forms
Financial Aid
Información de la Ayuda Financiera
Building 1600
2nd Floor
Room 1650
Drop-In Hours - unavailable at this time
Please email us at lpcfinaid@laspositascollege.edu
Monday: 9am - 5pm
Tuesday: 9am - 7pm
Wednesday: 9am - 5pm
Thursday: 9am - 5pm
Friday: 9am- 1pm
lpcfinaid@laspositascollege.edu
925.424.1580
Fax: 925.449.6038
Federal School Code:
We have an after-hours DROPBOX located in the hallway between the Admissions and Financial Aid Offices, for your convenience.
FAFSA
FSA Phone: 1-800-433-3243
FSA ID Assistance: 1-800-557-7394
California Dream Act (AB 540 eligible)
Financial Aid TV Videos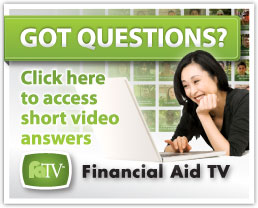 LPC Veterans First Program