RAW Center Fall 2021

Serving You 7-days a Week!
We'll be back for spring semester February 7, 2022
Live tutors available 7 days per week
Paper drop-off service -- 48 hour turn-around

See chart below for drop-in tutoring hours

Tutoring and paper drop-off via Canvas or Penji!

Follow instructions/watch instructional video below
Questions?
lpc-rawcenter@laspositascollege.edu
How to access drop-in tutoring
Go to any Canvas course; find 'LPC Tutoring/RAW' in navigation bar.

Download the free Penji app or create a free online account with your Zonemail (required).
Here is information on how to find and access your Zonemail email address.

Use our drop-in, or paper drop-off tutoring.
Register for the Supervised Tutoring course (NTUT 200, CRN

22801

) on CLASS-Web; it is non-credit, free, ungraded, and not on your official transcript. You can register before or after the add deadline. (Not required, but enrolling can help increase our funding.)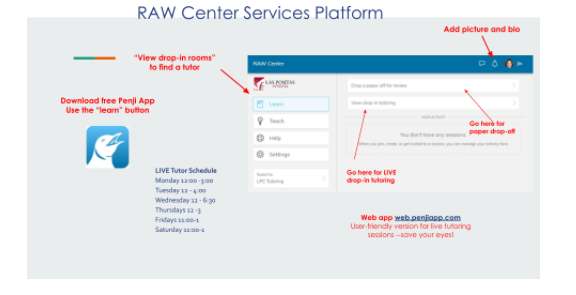 For more information please contact: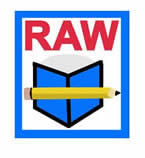 Michelle Gonzales
RAW Coordinator
(925) 424-1218
mgonzales@laspositascollege.edu
RAW Tutoring Hours

| Times | Monday | Tuesday | Wednesday | Thursday | Friday | Saturday |
| --- | --- | --- | --- | --- | --- | --- |
| 10 - 11am | X | X | X | X | | |
| 11am - 12pm | X | X | X | X | Megan Garcia | Salem Admassu |
| 12 - 1 pm | Heidii McMichael | Yi Guan | Heidii McMichael | Erin DeBakcsy | Megan Garcia | Salem Admassu |
| 1 - 2 pm | Steve Budd | Erin DeBakcsy | Steve Budd | Erin DeBakcsy | X | X |
| 2 - 3pm | Amy Moellering | Steve Chiolis | Amy Moellering | Nancy Bilbao | X | X |
| 3 - 4pm | X | Steve Chiolis | Raymond Park | X | X | X |
| 4 - 5pm | X | | Raymond Park | X | X | X |
| 5:00 - 6:30pm | X | | Nancy Bilbao | X | X | X |