Welcome to the Reading and Writing Center
The RAW Center IS OPEN!!
The RAW Center provides reading and writing help from English and ESL instructors to all Las Positas students. You can get assistance for writing and reading assignments from any class and for transfer and scholarship statements.
Official Hours & Resources
Find tutor hours, location information, and details about the tutoring sessions.
Find lessons on everything from thesis statements to comma usage.
Workshops
Workshops on topics such as personal statements for applications, grammar, and brainstorming.
For more information please contact: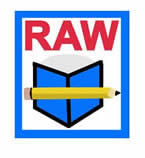 Richard Dry
Interim RAW Center Coordinator
(925) 424-1257
rdry@laspositascollege.edu
Meghan Swanson
RAW Coordinator
(925) 424-1249
mswanson@laspositascollege.edu
Reading & Writing Center
Room 2401, Office D