SALUTE Veterans National Honor Society
SALUTE
Veterans National Honor Society
Las Positas College is proud to be recognized as a Chapter of the SALUTE Veterans National Honor Society. If interested, please visit the Veterans Resource Center for more information.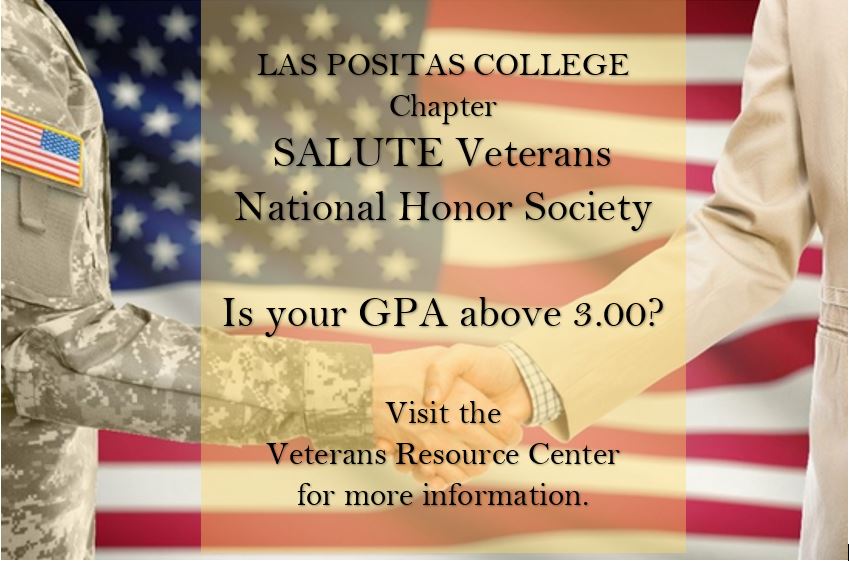 Individual Membership
Military Active Duty, or Honorably Discharged Veterans, who attend college at a 2-year or 4-year institution, with a 3.0+ GPA may qualify to apply for SALUTE.
SALUTE was established at Colorado State University in 2009 and since has grown rapidly reaching hundreds of schools across the country. Military Active Duty or Veterans that attend institutions that have an established Chapter of SALUTE must apply for membership through their college.
Benefits of individual membership include:
One-time payment for lifetime membership
A certificate and military-style challenge coin commemorating membership in SALUTE and specific level of academic achievement
Compete for Scholarships
Enhance your resume with formal academic acknowledgement and engage in local leadership positions
Opportunities to network, as well as, receive and give assistance to fellow student veteran members
Wear SALUTE Honor's regalia to demonstrate academic achievements as a veteran status at graduation
Participate in local, and National, SALUTE programs
Standards for Student Membership:
All Undergraduate Students selected for induction to SALUTE must meet the following criteria (for graduate students, please see section below):
Qualify as military/veteran student under locally-derived and maintained definitions. Applicant must submit a DD-214 Member 4 copy that displays the character of service (honorable discharge). Applicants currently serving on active duty or in the Guard or Reserves must submit a copy of orders for their current duty assignment.
Be currently enrolled as a student, and have a minimum of 12 course credits, for undergraduates
Maintain the highest ethical standards.
The undergraduate GPA tiers are broken down according to the following:

Alpha Tier GPA: 3.75 – 4.00
Bravo Tier GPA: 3.50 – 3.74
Charlie Tier GPA: 3.25 – 3.49
Delta Tier GPA: 3.00 – 3.24
SALUTE provides formal recognition for service and academics, leadership, volunteering and resume development, campus-community engagement, opportunities to network with as well as give and receive assistance to fellow veterans, eligibility for SALUTE scholarships, authorization to wear distinguishable honor cords and stole at graduation, letters of recommendation, federal hiring preference with honors merit & more!
For more information - visit: SALUTE Veterans National Honor Society.