Accreditation
Las Positas College is accredited by the Accrediting Commission for Community and Junior Colleges, Western Association of Schools and Colleges, an institutional accrediting body recognized by the Council for Higher Education Accreditation and the U.S. Department of Education. Additional information about accreditation, including the filing of complaints against member institutions, can be found at: www.accjc.org
About ACCJC
ACCJC is recognized by the U.S. Department of Education (ED) as a reliable authority regarding the quality of education offered by the institutions it accredits in keeping with the Higher Education Act of 1965. ACCJC is also recognized by the Council for Higher Education Accreditation (CHEA), which has established criteria that define a quality review system for accrediting agencies.
ACCJC accredits institutions in the United States, its territories and affiliates, with a primary mission of granting associate degrees; institutions accredited by ACCJC may also award certificates and other credentials, including bachelor's degrees, if those credentials are within the institution's mission and authorized by their governmental authorities. ACCJC may also accredit non-domestic institutions with a primary mission of granting associate degrees.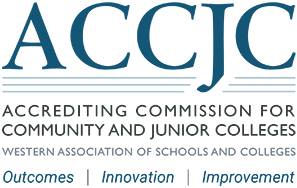 Accrediting Commission for Community and Junior Colleges (ACCJC)
331 J Street, Suite 200
Sacramento, CA 95814
Phone: (415) 506-0234 | Email: accjc@accjc.org
Program Specific Accrediation
The following Las Positas College programs are accredited by programmatic accrediting bodies, which are responsible to determine license/certification eligibility.
FIRE SERVICE TECHNOLOGY
California State Fire Marshal
2251 Harvard Street, Suite 400
Sacramento, CA 95815
(916) 568-3800
EMERGENCY MEDICAL SERVICES/ PARAMEDIC PROGRAM
The Las Positas College Paramedic Training Program has been approved by the California State EMS Authority through the Alameda County EMS Agency.
College Paramedic Program is accredited by the Commission on Accreditation of Allied Health Education Programs (www.caahep.org) upon the recommendation of the Committee on Accreditation of Educational Programs for the Emergency Medical Services Professions (CoAEMSP).
To contact CAAHEP:
25400 US Highway 19 North, Suite 158
Clearwater, FL 33763
Phone: (727) 210-2350,
Fax: (727) 210-2354
http://www.caahep.org
To contact the CoAEMSP:
8301 Lakeview Parkway Suite 111- 312
Rowlett, TX 75088
Phone (214) 703-8445
Fax (214) 703-8992
www.coaemsp.org
This accreditation is initial and expires on March 31, 2022.
AUTOMOTIVE TECHNOLOGY
ASE Program Accreditation in:
Master Automobile Service Technology
1503 Edwards Ferry Rd., NE
Suite 401
Leesburg, VA 20176
Accreditation Expiration Date: 2/1/2030
info@ASEeducationfoundation.org
(800) 806-0018