INVEST IN STUDENT VETERANS
INVEST IN LAS POSITAS COLLEGE STUDENT VETERANS
Your investment will go to support the various programs and services provided by the Las Positas College Veterans First Program for student Veterans, active duty, reservists/guard, and military family members such as:
Veterans Relief Fund
Operation: Diaper Relief
Ace train / Veterans First passes
Operation Gateway: annual new Veterans orientation
Veterans First Scholarships
Food / Gas Cards
School Supplies for Veterans
Refreshments / Snacks in the Veterans Resource Center
Mental Health resources
Trainings / Workshops
Support LPC Student Veterans Organization - events, conferences, etc.
Various events: 9/11 Remembrance, Honoring Veterans Day, Honoring Women Veterans, Military Appreciation Night at the Nest, and Honoring the Fallen.
How to Invest
Donations can be made to the LPC Veterans Resource Center through the Las Positas College Foundation (a 501(c)(3) non-profit). Donors will receive a letter from the Foundation acknowledging their tax-deductible gift.
To donate by check:
Make checks payable to the Las Positas College Foundation. On the memo line, please write Veterans First or Veterans Resource Center. See the example below: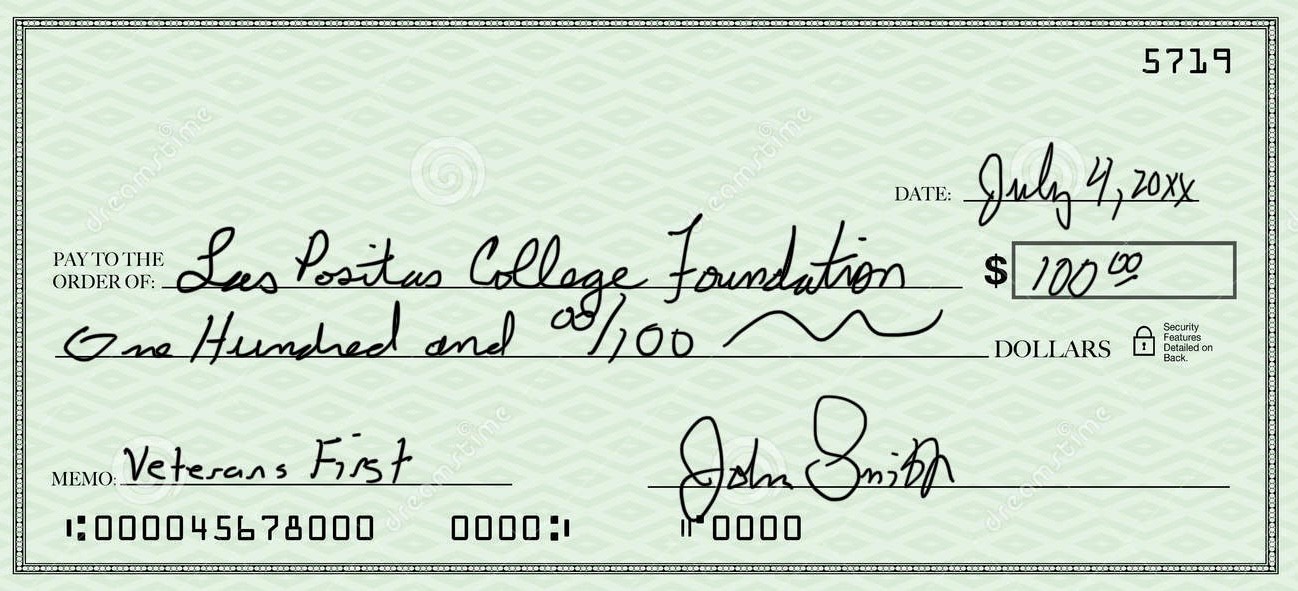 Checks should be mailed to:
Las Positas College Foundation
3000 Campus Hill Drive
Livermore, CA 94551
To donate online by credit card:
Click on the link above and provide the required information on the donation page. In the section labeled "Program Name", select Veterans First Initiative in the pull-down menu.
To donate cash:
Please contact Rifka Several in the Las Positas College Foundation office at: (925) 424-1014. You can also reach her via email at: rseveral@laspositascollege.edu.
Your investment is tax deductible: IRS Number 71-0942040.