President's Speaker Series
President's Speaker Series
February Speaker Series Presents: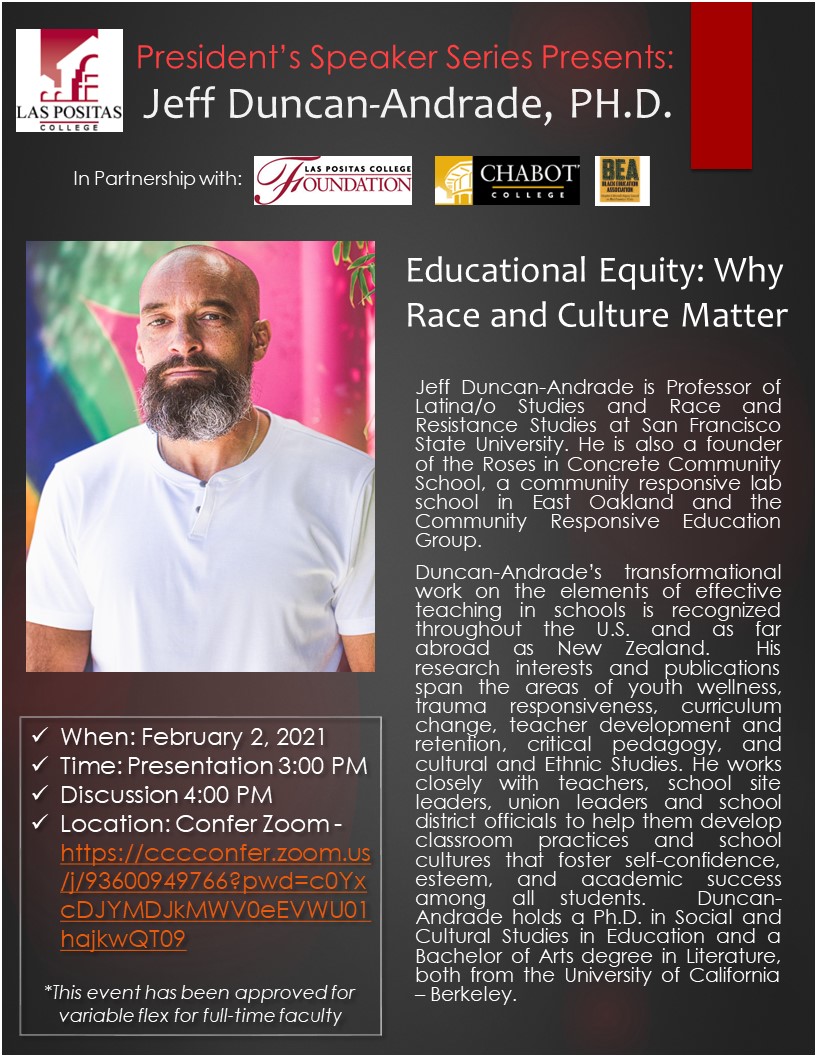 Dr. Jeff Duncan-Andrade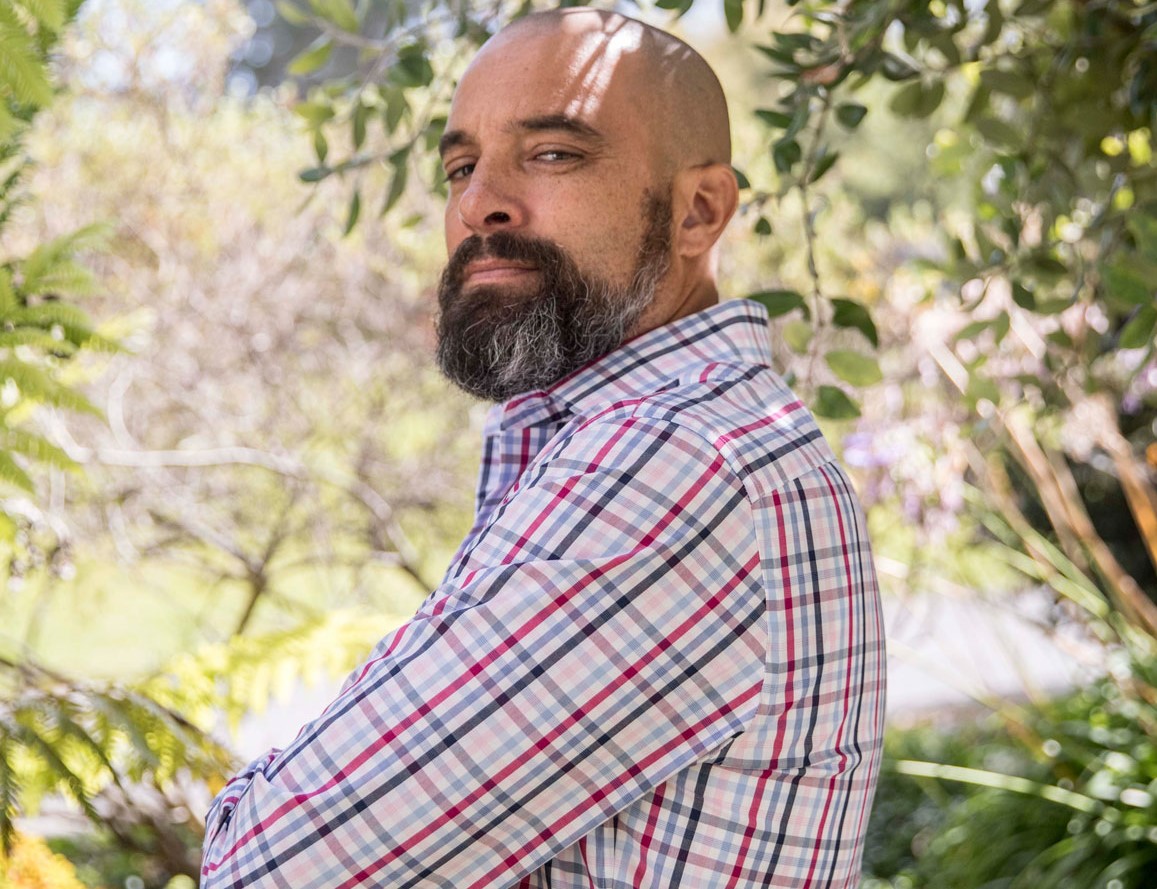 Jeff Duncan-Andrade, Ph.D., is Professor of Latina/o Studies and Race and Resistance Studies at San Francisco State University. He is also a founder of the Roses in Concrete Community School, a community responsive lab school in East Oakland (www.rosesinconcrete.org) and the Community Responsive Education Group (www.communityresponsive.org). As a classroom teacher and school leader in East Oakland (CA) for the past 29 years, his pedagogy has been widely studied and acclaimed for producing uncommon levels of social and academic success for students. Duncan-Andrade lectures around the world and has authored numerous journal articles and book chapters on effective practices in schools. He has written two books and his third book with Harvard Press is due out Spring 2021. In 2015, Duncan-Andrade was tapped to be a Commissioner on the National Commission on Teaching & America's Future (NCTAF) and in 2016 was part of the great educators invited to the White House on National Teacher Appreciation Day by President Obama. He is also the 2019 Laureate for the prestigious Brock International Prize in Education. Duncan-Andrade is also consistently ranked as one of the nation's most influential scholars by EdWeek's Public Influence Rankings.
Duncan-Andrade's transformational work on the elements of effective teaching in schools is recognized throughout the U.S. and as far abroad as New Zealand. His research interests and publications span the areas of youth wellness, trauma responsiveness, curriculum change, teacher development and retention, critical pedagogy, and cultural and Ethnic Studies. He works closely with teachers, school site leaders, union leaders and school district officials to help them develop classroom practices and school cultures that foster self-confidence, esteem, and academic success among all students. Duncan-Andrade holds a Ph.D. in Social and Cultural Studies in Education and a Bachelor of Arts degree in Literature, both from the University of California – Berkeley.
Click on the file above for bio links.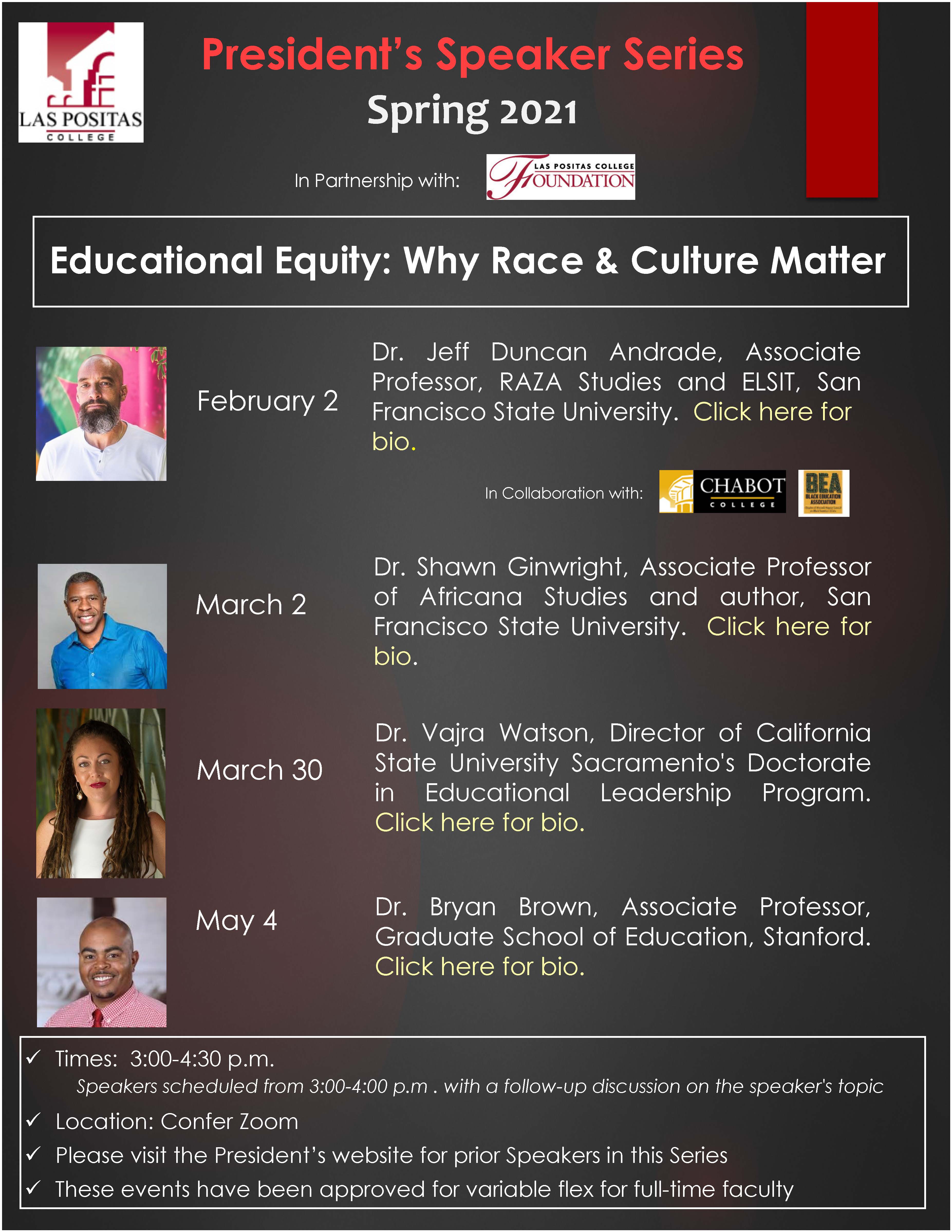 December 2020
Recording of Jas Boothe webinar.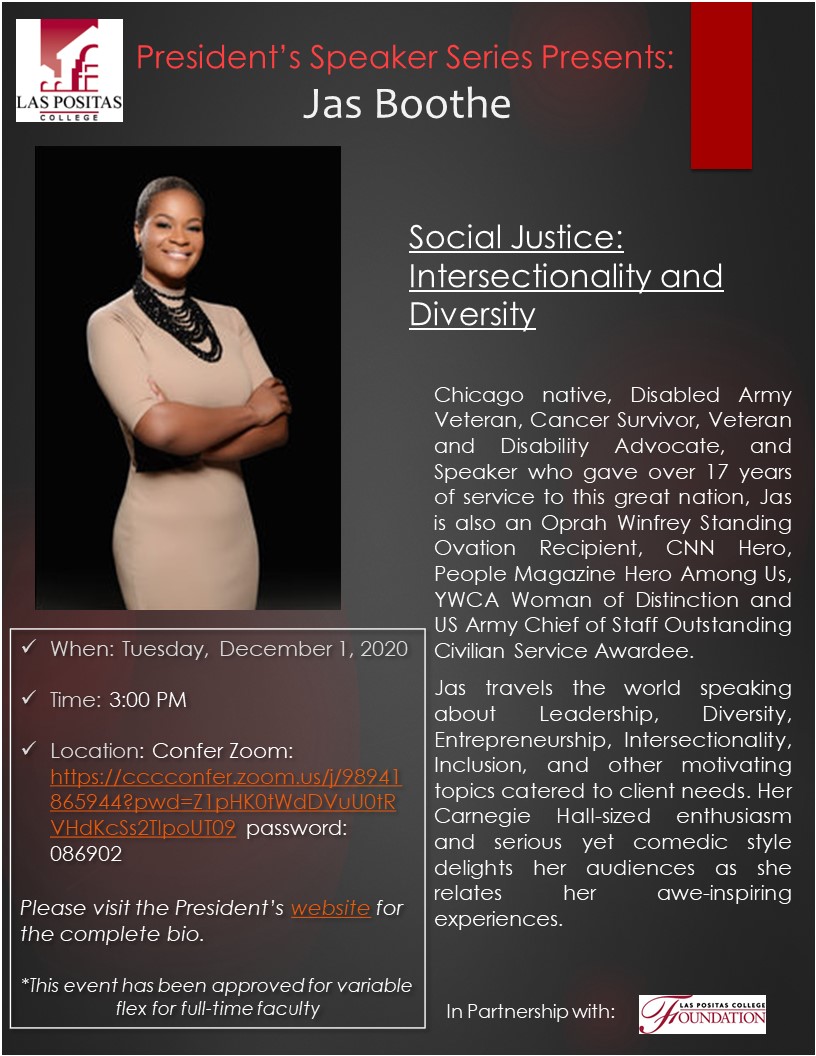 December Speaker Series Presents:
Jas Boothe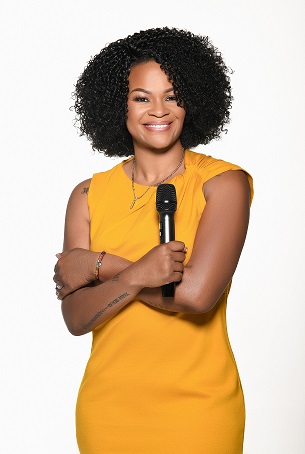 Chicago native, Disabled Army Veteran, Cancer Survivor, Veteran and Disability Advocate, and Speaker who gave over 17 years of service to this great nation, Jas is also an Oprah Winfrey Standing Ovation Recipient, CNN Hero, People Magazine Hero Among Us, YWCA Woman of Distinction and US Army Chief of Staff Outstanding Civilian Service Awardee.
Jas travels the world speaking about Leadership, Diversity, Entrepreneurship, Intersectionality, Inclusion, and other motivating topics catered to client needs. Her Carnegie Hall-sized enthusiasm and serious yet comedic style delights her audiences as she relates her awe-inspiring experiences.
While in the Army, Jas deployed during the Operation Iraq Freedom/Operation Enduring Freedom campaigns, and her military career was dedicated to working with and advocating for Soldiers and their family members. In 2005, she was a single parent in the Army Reserves living in New Orleans. During her mobilization for a deployment to Iraq, Boothe's life presented seemingly insurmountable challenges. That August, she lost everything she owned due to Hurricane Katrina but, rather than succumb to her losses, she shifted her focus to her platoon whose lives relied on her leadership. However, the next month she received a devastating diagnosis of aggressive head, neck, and throat cancer and was unable to deploy. She faced limited options, difficult choices, and, because of her illness, discharge from the military. Yet, she would not go down without a fight!
In need of complex full-time medical care, a job, and a place to live with her young son, Boothe was told there were no existing programs for female Veterans with children and that she should explore welfare and social services just like every other single mother. America had forgotten about the women who serve, fight, bleed and die alongside their male counterparts. She found these options unacceptable and was determined to not only find her own way but make a lasting change that would benefit others like her. After extensive cancer treatment including radiation therapy that left life-long side effects, Boothe was able to stay in the Reserves and immediately began looking for full-time employment and housing.
While living with her aunt in Missouri, Boothe accepted a job offer from the Army National Guard and, later, returned to full-time duty in Washington, DC. Boothe's struggle led to her determination to ensure her fellow female Veterans had a resource in their time of need.
Jas Founded Final Salute Inc in November 2010 as part of her commitment to "Never Leave a Fallen Comrade." Final Salute Inc has provided over 15,000 days of transitional housing and assisted over 7000 women Veterans and children in over 30 States and Territories.
An excellent storyteller and News Maker, Jas is also featured in the documentary "Served Like a Girl" (http://servedlikeagirl.com/), which follows several American women who were wounded in action and are now transitioning from soldier to civilian after serving their country in Iraq and Afghanistan.
Boothe holds a BA in Mass Communications from Mississippi Valley State University and dual MAs in Human Resource Management and Management and Leadership from Webster University.
Jas has been honored for her leadership and community service including:
Oprah Winfrey Standing Ovation Recipient
American Veterans Center Lillian Keil Award – Women's Contributions to the Military
CNN Hero
People Magazine Hero Among Us
YWCA Woman of Distinction
November 2020
Recording for Tim Wise webinar.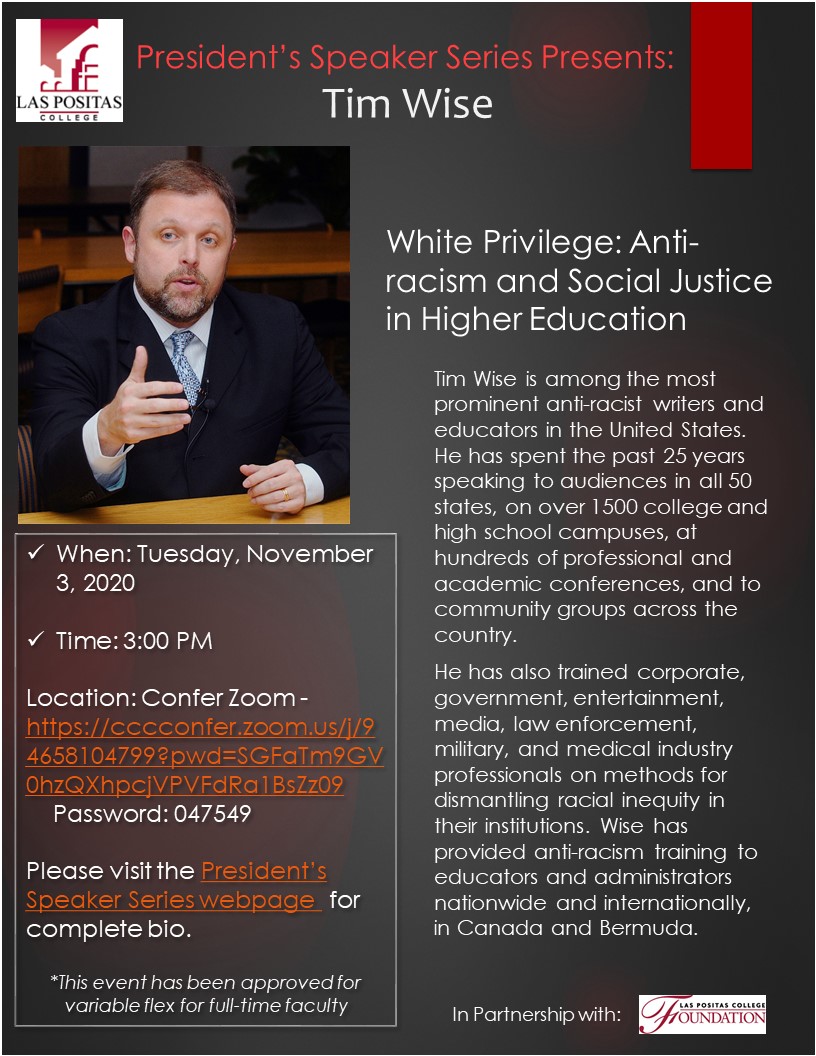 Resources:
Documentaries
Tim Wise on White Privilege: Racism, White Denial & the Costs of Inequality​
http://lpclibrary.idm.oclc.org/login?url=https://video.alexanderstreet.com/watch/tim-wise-on-white-privilege-racism-white-denial-the-costs-of-inequality​
White Like Me: Race, Racism & White Privilege in America​
https://laspositascollege.kanopy.com/video/white-me-0
The Great White Hoax: Donald Trump and the Politics of Race and Class in America
https://laspositascollege.kanopy.com/video/great-white-hoax
eBook
Colorblind: The Rise of Post-Racial Politics and the Retreat from Racial Equity​
https://lpclibrary.overdrive.com/media/593677
November President's Speaker Series Presents:
Tim Wise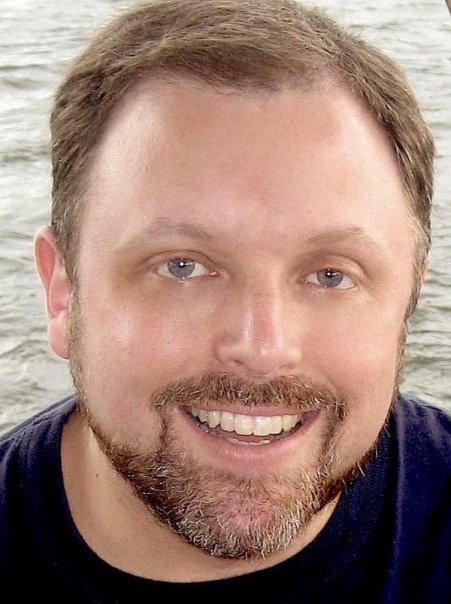 Tim Wise is among the most prominent anti-racist writers and educators in the United States. He has spent the past 25 years speaking to audiences in all 50 states, on over 1500 college and high school campuses, at hundreds of professional and academic conferences, and to community groups across the country.
He has also trained corporate, government, entertainment, media, law enforcement, military, and medical industry professionals on methods for dismantling racial inequity in their institutions. Wise has provided anti-racism training to educators and administrators nationwide and internationally, in Canada and Bermuda.

Wise is the author of nine books, including his forthcoming, Dispatches from the Race War (December 2020 from City Lights Books). Other books include Under the Affluence, Dear White America: Letter to a New Minority and Colorblind (all from City Lights Books); his highly-acclaimed memoir, White Like Me: Reflections on Race from a Privileged Son, (recently updated and re-released by Soft Skull Press); Affirmative Action: Racial Preference in Black and White; Speaking Treason Fluently: Anti-Racist Reflections From an Angry White Male; and Between Barack and a Hard Place: Racism and White Denial in the Age of Obama.
Named one of "25 Visionaries Who are Changing Your World," by Utne Reader, Wise has contributed chapters or essays to over 25 additional books and his writings are taught in colleges and universities across the nation. His essays have appeared on Alternet, Salon, Huffington Post, Counterpunch, The Root, Black Commentator, BK Nation and Z Magazine among other popular, professional and scholarly journals.
From 1999-2003, Wise was an advisor to the Fisk University Race Relations Institute, in Nashville, and in the early '90s he was Youth Coordinator and Associate Director of the Louisiana Coalition Against Racism and Nazism: the largest of the many groups organized for the purpose of defeating neo-Nazi political candidate, David Duke.
Wise has been featured in several documentaries, including two from the Media Education Foundation. "White Like Me: Race, Racism and White Privilege in America," which he co-wrote and co-produced, has been called "A phenomenal educational tool in the struggle against racism," and "One of the best films made on the unfinished quest for racial justice," by Eduardo Bonilla-Silva of Duke University, and Robert Jensen of the University of Texas, respectively. "The Great White Hoax: Donald Trump & the Politics of Race & Class in America" features Wise explores how American political leaders of both parties have been tapping into white anxiety, stoking white grievance, and scapegoating people of color for decades to divide and conquer working class voters and shore up political support.
Wise also appears alongside legendary scholar and activist, Angela Davis, in the 2011 documentary, "Vocabulary of Change." In this public dialogue between the two activists, Davis and Wise discussed the connections between issues of race, class, gender, sexuality and militarism, as well as inter-generational movement building and the prospects for social change. More recently, he appeared in Chelsea Handler's Netflix documentary Hello Privilege, It's Me Chelsea on white privilege and racism in the United States.
Wise appears regularly on CNN and MSNBC to discuss race issues and was featured in a 2007 segment on 20/20. He graduated from Tulane University in 1990 and received antiracism training from the People's Institute for Survival and Beyond, in New Orleans. He is also the host of the podcast, Speak Out with Tim Wise.
October 2020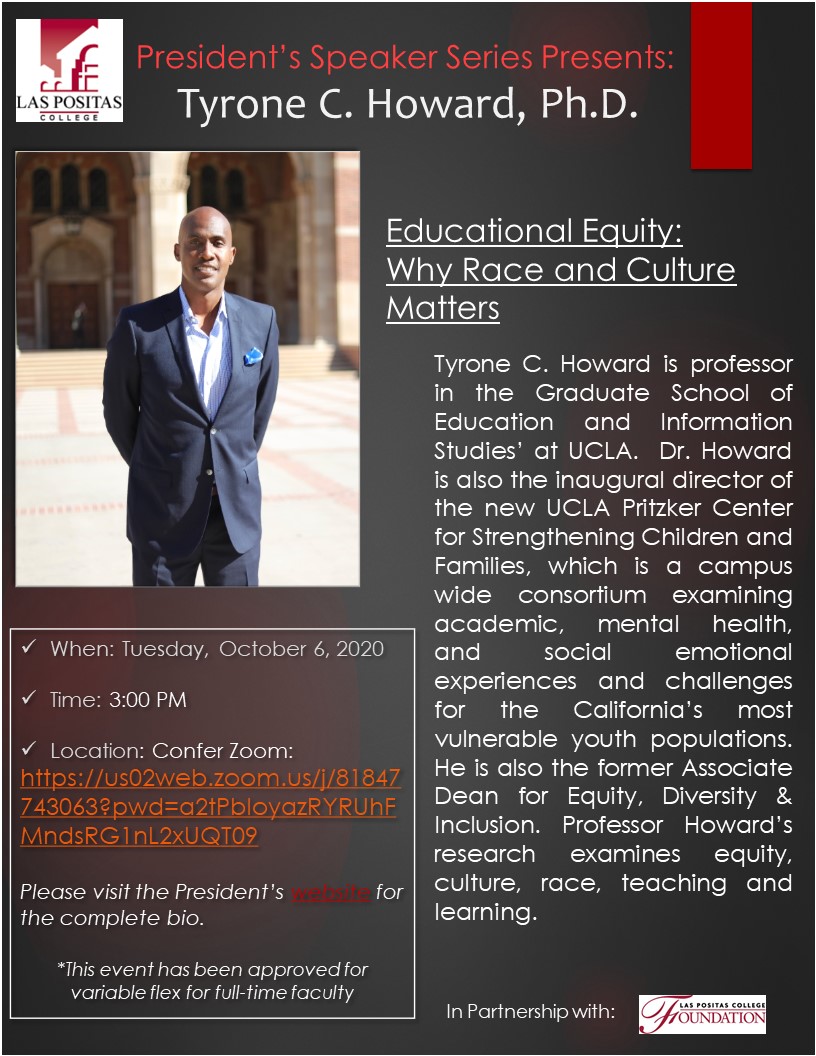 To access Dr. Howard's Presentation from October 6, 2020 please click here.
October President's Speaker Series Presents:
Tyron C. Howard, PH.D.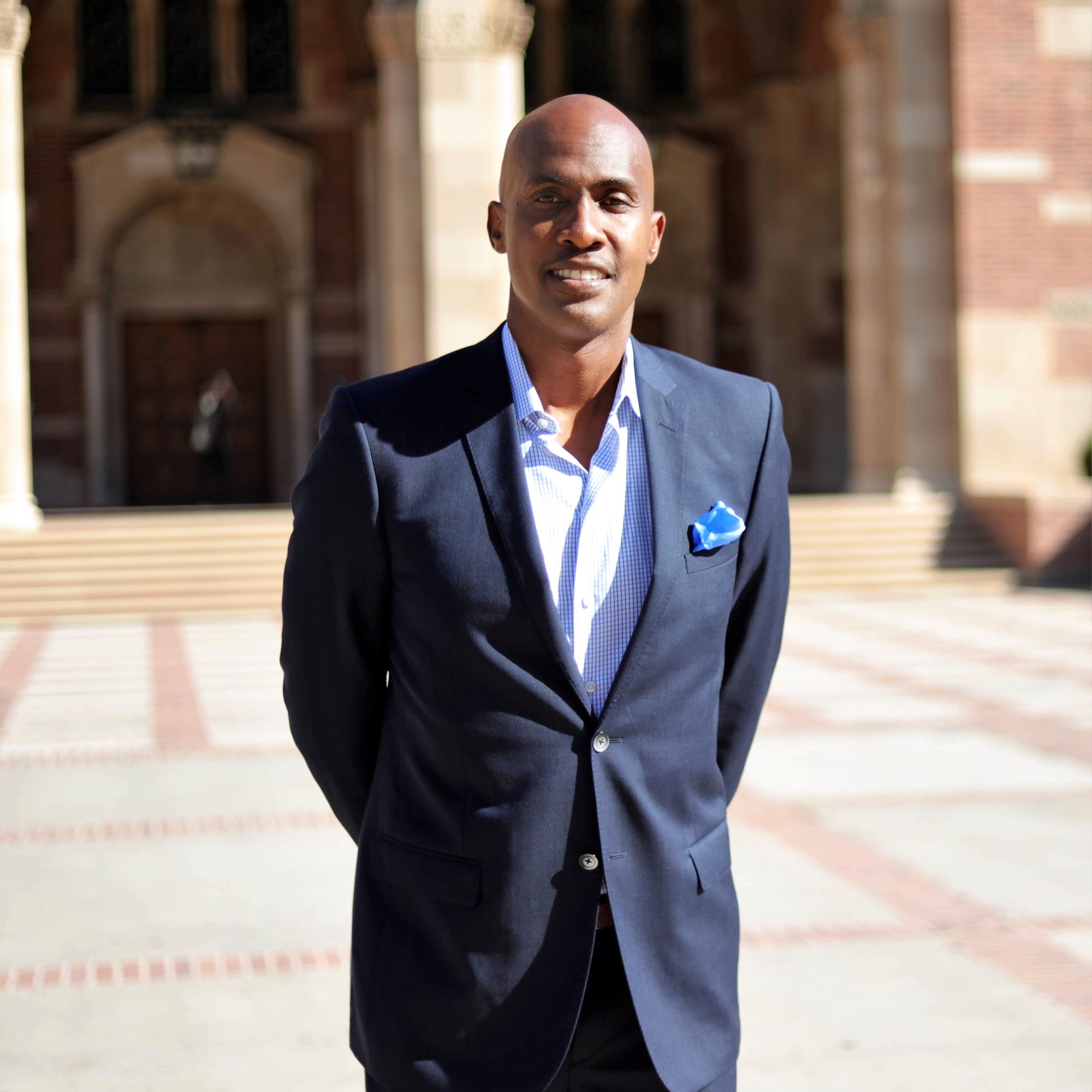 Tyrone C. Howard is professor in the Graduate School of Education and Information Studies' at UCLA. Dr. Howard is also the inaugural director of the new UCLA Pritzker Center for Strengthening Children and Families, which is a campus wide consortium examining academic, mental health, and social emotional experiences and challenges for the California's most vulnerable youth populations. He is also the former Associate Dean for Equity, Diversity & Inclusion. Professor Howard's research examines equity, culture, race, teaching and learning. Professor Howard has published over 75 peer reviewed journal articles, book chapters, and technical reports. He has published several bestselling books, among them, Why Race & Culture Matters in Schools and Black Male(d): Peril and promise in the education of African American males. His most recent book, All Students Must Thrive, focuses on equity, race, trauma, and learning has become a must read for all educators. Dr. Howard is considered one of the premiere experts on educational equity and access in the country. Dr. Howard is also the Director and Founder of the Black Male Institute at UCLA, which is an interdisciplinary cadre of scholars, practitioners, community members, and policy makers dedicated to examining the nexus of race, class, and gender of school age youth. A native and former classroom teacher of Compton, California, Dr. Howard named the recipient of the 2015 UCLA Distinguished Teaching Award, which is the highest honor provided to teaching excellence at the university. In 2019, Dr. Howard was listed by Education Week as one of the 60 most influential scholars in the nation informing educational policy, practice and reform.
September 2020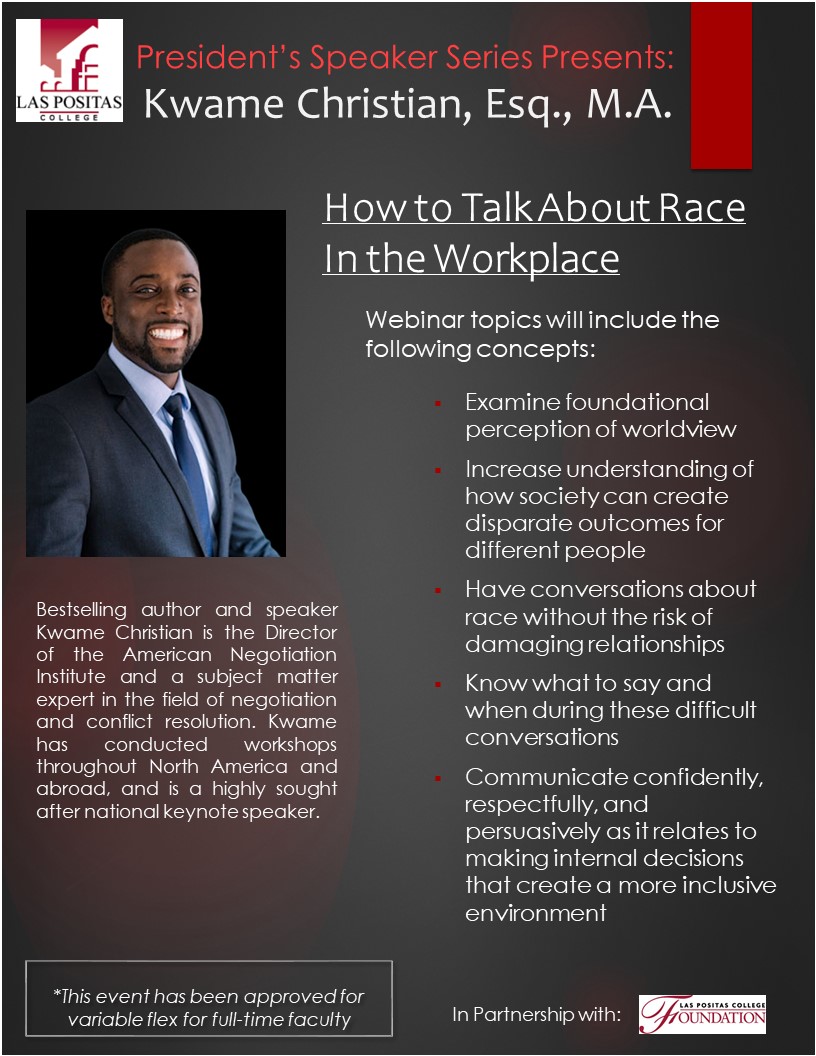 Virtual Negotiation and Conflict Resolution Handbook :
www.americannegotiationinstitute.com/virtual