Operation Gate XI
Operation Gateway XI
July 18 & 19, 2019
A recap video of Operation Gateway will be posted on soon. Please check back soon.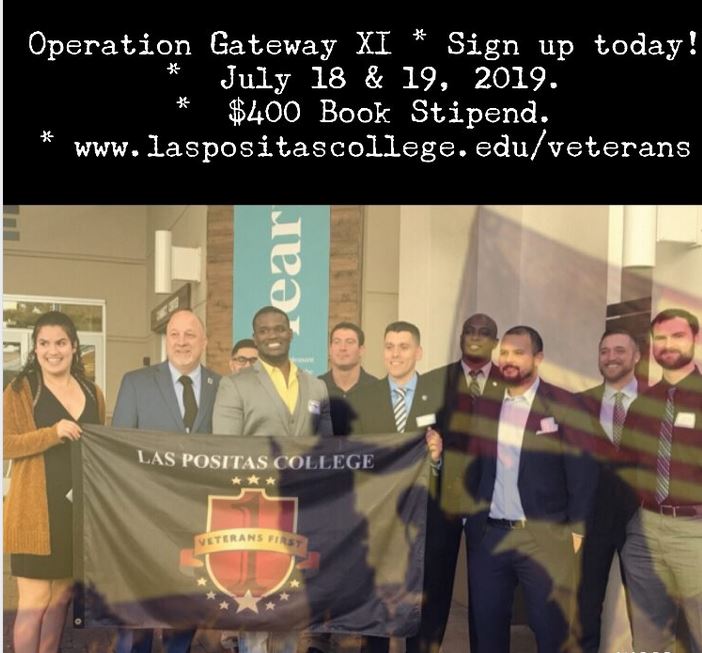 We have reserved a space for our eligible first year student veterans at our 11
th
Annual Operation Gateway at Las Positas College (LPC) held on Thursday, July 18 and Friday, July 19, 2019. To be eligible, you must meet this criteria:
1. Student veterans who enrolled at LPC for the following terms are eligible to sign-up for Operation Gateway: Fall 2018, Spring 2019, Summer 2019, and Fall 2019.
2. Additionally, you must NOT have attended past Operation Gateway sessions.
3. You must be registered in a minimum of

9 units

for the Fall 2019 semester.
This special 2 day transitional seminar is gear to empower student veterans, dependents/spouses, and reservists with resources to ensure academic success. We will connect you with resources at Las Positas College with support from members of local community organizations.

"We are proud to offer this two-day seminar that will be dedicated to in-depth education and career planning, classroom expectations, finance and benefits information, campus life, community resources and veteran support services," said Veterans First Coordinator Todd Steffan. "Operation Gateway" is also a great opportunity for veterans to experience firsthand the community and camaraderie at Las Positas College."
In addition to informational sessions and workshops, veterans will meet other veterans and enjoy two delicious meals with students, staff, and members from community organizations.
Students who attend both days, and are registered with the Veterans First Program, will receive a $500
textbook stipend along with a backpack.