General Information
General Information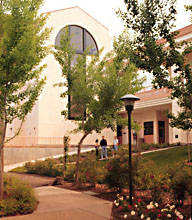 As a California Community College, we offer 2 year Associate degree programs, 2+2 University Transfer Pathway programs that lead to Bachelor degrees at institutions such as the California State University (CSU) and University of California (UC) systems, and Certificate programs. Click here for a list of our Degree and Certificate programs.
Las Positas college is authorized under Federal Law to enroll non-immigrant alien students. International students (F-1 Visa) seeking admission to Las Positas College must first complete our standard Application for Admissions and submit additional required documents. Please review and mail or fax the completed forms to the International Student Office.
After we have received your completed application including all necessary admission documents and you have met the necessary requirements, we will process your acceptance and send your acceptance documents within 1 week. These are the documents that you will use to apply for the F-1 visa.
College History
Las Positas College, part of the Chabot-Las Positas Community College District, is located on 147 acres in Livermore, in the midst of one of California's fastest-growing regions for business, science, and technology.
Las Positas began as an extension center of Chabot College in 1963, offering 24 classes and enrolling 810 students at Livermore High School and two other sites. By 1965, the program had expanded and moved to Granada High School in Livermore; it subsequently grew to include Amador and Dublin High Schools as well. The District purchased the Livermore site that same year, intending to develop a comprehensive community college. However, in 1970 and again in 1972, bond issues to build the rural college failed-despite Tri-Valley voters' overwhelming support-because the District's largest voting population lived outside the service area for the proposed college. Lacking funds to develop a second comprehensive community college, the Board of Trustees voted to develop a small education center at the Livermore site. On March 31, 1975, "Valley Campus" opened as the Livermore Education Center of Chabot College.
Las Positas College has since developed into a fully accredited comprehensive institution. In 1988 the College was designated by the Board of Governors to be an independent college. Las Positas College received full accreditation on January 7, 1991 from the Accrediting Commission for Community and Junior Colleges of the Western Association of Schools and Colleges.
Las Positas College currently enrolls approximately 8,900 day and evening students. The College offers a two-year curriculum for students seeking career preparation, transfer to a four-year college or university, or personal enrichment. Students who come to the College can choose any of 24 Occupational Associate Degrees, 16 Transfer Associate Degrees, and 36 Certificate Programs.
Academic rigor is maintained in a friendly, personal atmosphere. Las Positas faculty and staff are distinguished by their energy, creativity, and commitment to making a difference in the lives of the students they serve.
For more information please contact:
Building 1600
Room # 1658
lpcglobal@laspositascollege.edu
Cindy Balero
International Student Program Coordinator
On-Campus Hours - Appointment Strongly Recommended
Monday, Tuesday & Wednesday
9:00 a.m - 4:00 p.m.
Remote Hours
Thursday - 9:00 a.m. - 4:00 p.m.
Friday - 9:00 a.m. - 1:00 p.m.