Financial Aid on Class-Web
How to check your Financial Aid on Class-Web


Please watch our short video that shows you how to find Financial Aid Eligibility, Requirements, and Program Eligibility on CLASS-Web. VIDEO
Step 1
Log in to CLASS-Web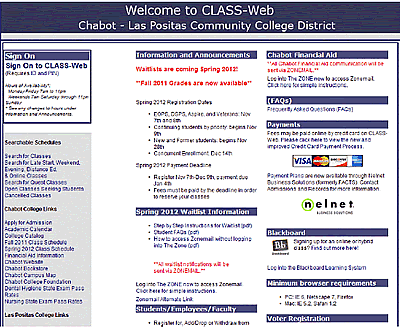 Enter your 9-digit User Identification Number ("W" ID or your SSN) and your 6-digit numeric Personal Identification Number (PIN). When finished, click Login. If you have any questions regarding what to enter, please read What is my User ID/PIN?
If you have forgotten your PIN, enter your User ID first, then click Forgot PIN? You have five attempts to correctly enter your User ID and PIN before your online account becomes disabled.
When you have finished using CLASS-Web, please Exit and close your browser to protect your privacy.
Step 2
Select the "Financial Aid" tab.

Step 3
Then select "My Eligibility"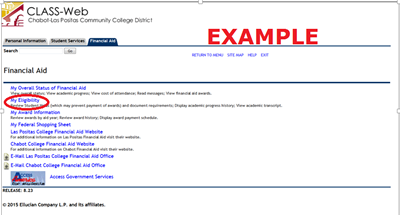 Step 4
Then select "Student Requirements"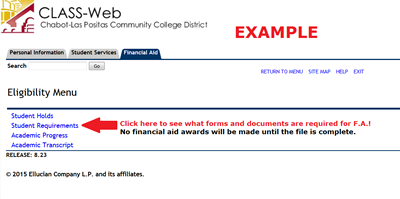 Step 5
"Student Requirements" lists the forms the student has submitted and what forms are required for processing.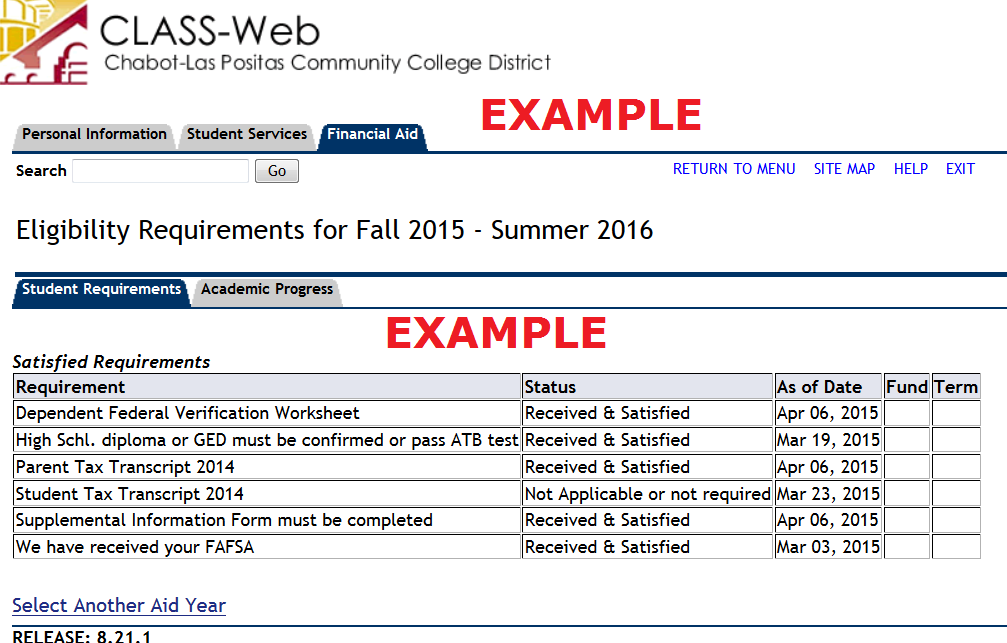 How to find your Account Summary By Term (BOGW)
Select the Financial Aid tab
Next select My Award Information
Next select Award By Aid Year
Finally select Account Summary By Term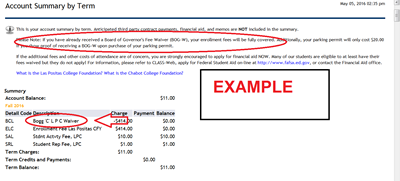 You may also check this website for more information about CLASS-Web.
How to find your Zonemail and how to access it.
Select the "Personal Information" tab
Then select the "What is my email address?" further down the page
How to locate and print out your 1098-T
Select the "Student Service" tab
Then select "Review your 1098-T Information"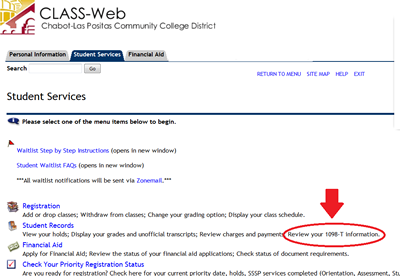 Financial Aid


Forms
Financial Aid
All Staff are Working Remotely at this Time
Cranium Cafe Hours
Phone or Videochat

Monday: 9am - 5pm
Tuesday: 9am - 5pm
Wednesday: 9am - 5pm
Thursday: 9am - 5pm
Friday: 9am - 1pm
lpcfinaid@laspositascollege.edu
925.424.1580 unavailable
Fax: 925.449.6038
Federal School Code:
We have an after-hours DROPBOX located in the hallway between the Admissions and Financial Aid Offices, for your convenience.
FAFSA
FSA Phone: 1-800-433-3243
FSA ID Assistance: 1-800-557-7394
California Dream Act (AB 540 eligible)
Financial Aid TV Videos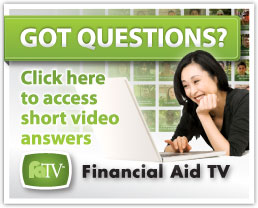 LPC Veterans First Program