Determining Financial Aid Awards
Determining Financial Aid Awards
First, we assign you a Cost of Attendance budget based on your dependency status. This budget is based on the full-time cost of tuition, books and supplies and an estimated cost for living expenses.
Second, we subtract the EFC that was reported on your Student Aid Report. The result is your Estimated Financial Need. You will receive funding, as available, up to this remaining need amount.
Financial aid is awarded in the following order, based on available funds:

Federal Pell Grant
Scholarships
Other grants (for example, SEOG, Cal-Grants, Bureau of Indian Affairs Grants, EOPS)
Work-study employment
Loans

Many of these funds are limited and are awarded until they are depleted. In addition, there is a maximum annual limit for each award. All external funds must be reported to the Financial Aid Office even if received directly by the student.
This means that it is possible for you to have remaining need even after all funds have been awarded.
I have a bachelor's degree. Am I completely out of luck? - Video
No. You are not eligible for a Pell Grant or SEOG.
But you may be eligible for BOG, Federal Work Study and a Stafford Student Loan.
The same formula as above will be used and any unmet need will first be filled by BOG and then with FWS. You may also be eligible to apply for a Federal Stafford student loan.
Financial Aid


Forms
Financial Aid
All Staff are Working Remotely at this Time
Cranium Cafe Hours
Phone or Videochat

Monday: 9am - 5pm
Tuesday: 9am - 5pm
Wednesday: 9am - 5pm
Thursday: 9am - 5pm
Friday: 9am - 1pm
lpcfinaid@laspositascollege.edu
925.424.1580 unavailable
Fax: 925.449.6038
Federal School Code:
We have an after-hours DROPBOX located in the hallway between the Admissions and Financial Aid Offices, for your convenience.
FAFSA
FSA Phone: 1-800-433-3243
FSA ID Assistance: 1-800-557-7394
California Dream Act (AB 540 eligible)
Financial Aid TV Videos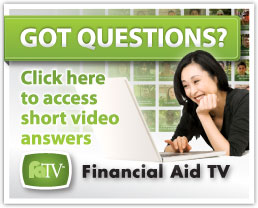 LPC Veterans First Program