Graduation
Graduation
If you're completing a degree, certificate, transfer, or occupational skills program at Las Positas College, you need to apply for graduation at Admissions and Records Office. It is recommended that you plan to apply for the award at the start of your last term at Las Positas College. If you apply for a degree, certificate of achievement, or certification by the appropriate deadline dates, you will be able to participate in Commencement activities (if eligible).
It is the student's responsibility to submit a petition for a degree, certificate, transfer certification, or occupational skills award by the deadline dates. The Spring deadline is Thursday, April 1, 2021.

The virtual ceremony on Friday, May 28, 2021. For more information please view the Commencement Ceremony webpage.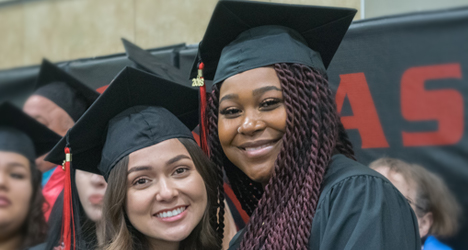 Application Information
Applications for Fall 2020/Spring 2021, and financial aid (FAFSA and CADAA) are available October 1, 2020

Admissions & Records Office
Building 1600, Second Floor
Window Office Hours
Monday - Friday
9:00 am - 1:00 pm
The only (2) in person services will be provided:
Receive cash payments for tuition/fees
Issuance of Student Identification card
Online Office Hours
Tuesday
9:00 am – 5:00 pm
Wednesday
9:00 am – 5:00 pm
Thursday
9:00 am – 5:00 pm
Contact Information
Our office is working remotely to serve you during this time and we are experiencing a high volume of inquiries which may increase our respond time.
Due to the campus closure, please send all Admissions and Records inquiries via email.
Email: lpc-admissions@laspositascollege.edu
Phone: (925) 424-1500