Bay Area Honors Research Symposium
Introduction
The Bay Area Honors Research Symposium is a conference where honors students throughout California present some of the best work being done in community colleges. It is a great way to share your honors research, connect with other highly motivated honors students, and get valuable experience presenting your work. Proposals are due February 14, 2023. Follow the link below for more information on how to apply. You can also send me an email for video tips on how to apply and prepare for the symposium.
For more information please contact: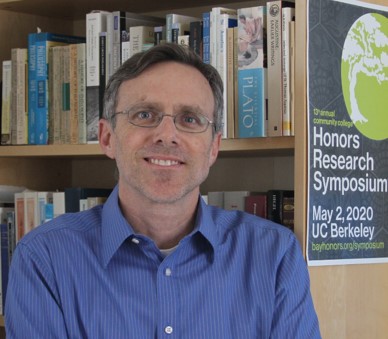 Jeremiah Bodnar
Program Coordinator
jbodnar@laspositascollege.edu

Office Locations
(Please check both during office hours)
Honors Office: Room 220-B
Honors Coordinator's Office (J. Bodnar): 270-K
Office Hours: Spring 2023

Monday & Wednesday: 11:30 AM - 12:30 PM
Tuesday & Thursday: 11:20 AM - 12:20 PM
Friday: 9:15 AM - 10:15 AM (Online only - Email for Zoom info.)
Key Deadlines, Fall 2022
Honors contract proposals due: Friday, February 3, 2023
Honors contracts completed, approved instructor, project completion survey submitted: Friday, May 19, 2023
Yearly Calendar
Our program runs in the fall and spring semesters but is not active in the summer term.