Meeting with a Counselor
HOW TO PREPARE FOR YOUR COUNSELING SESSION
---
All students are encouraged to meet with a counselor for academic planning & career guidance. Prior to your academic planning meeting, please complete the following steps and learn of other resources available to all students.
---
STEP 1:
1. Watch the video- Creating your Academic Plan – General Education
2. Download & print your selected General Education Pattern
---
STEP 2:
1. Watch the video: Creating your Academic Plan- Major requirements
2. Visit our Degree & Certificates homepage to view the complete list of all the associate degrees & certificates offered at LPC (in alphabetical order).
3. Select your degree. View the list of the major courses required for the degree or certificate.
4. Click on "View Program Map" at the top of the page. The program map is the suggested 4 semester educational plan which includes general education and major courses. The maps are geared for full time enrollment to complete your degree in 2 years or 4 semesters.
Click Here For Visual Instructions
Note: AA-T and AS- T are the California State University transfer degrees. You must use the CSU GE Breadth or IGETC GE patterns with these degrees.
---
OTHER RESOURCES
---
New Student Group Planning Session
An abbreviated education plan is one or two semesters in length and is typically used for entering first time students.
---
DegreeWorks
Degree Works allows you to view your Student Educational Plan and confirm what courses you have completed, as well as what courses remain, toward meeting your educational objective(s). DegreeWorks matches your academic and course history, as well as your current course schedule, against the degree requirements as defined in the LPC College Catalog.
To access Degree Works, follow these steps:
Sign on to CLASS-Web by entering your User W-ID number and PIN
Once logged in, navigate to the Student Services Tab,
Scroll down and locate the DegreeWorks Tab

If you have questions or need more information, please

visit

the

DegreeWorks

Homepage
Click Here For Visual Instructions
---
Assist
The official course transfer and articulation system for California's public colleges and universities (CSU & UC). Use the assist website to identify the lower division courses for your major that should be completed at Las Positas College prior to transferring to the 4-year university. ·
To access the assist website, , follow these steps:
Visit the Assist homepage
Select Las Positas College as your institution
Select your transfer university in the agreements with other institutions box
Select view agreements
Then select your major. The courses on the right-hand side of the sheet are the major courses that you should complete at LPC before you transfer.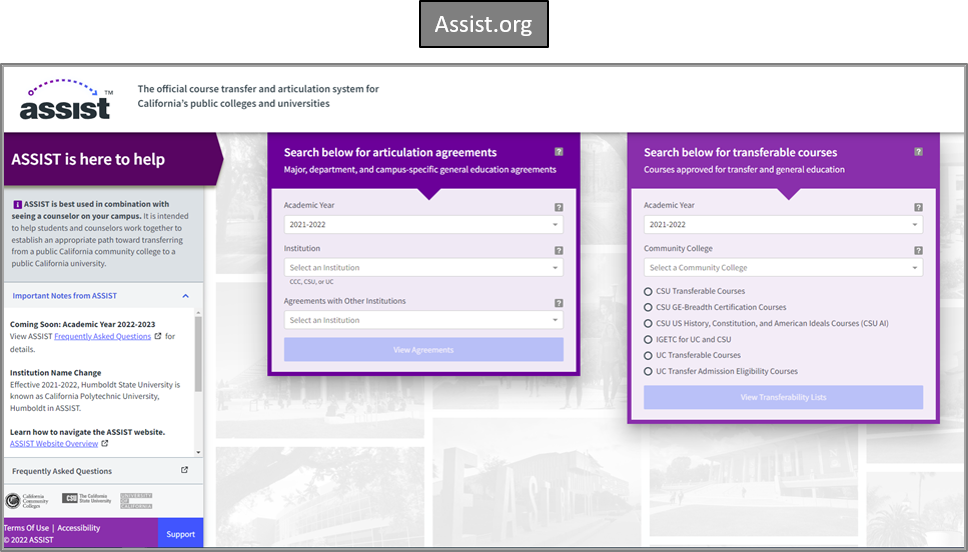 ---