Information for Faculty on the Las Positas Honors Transfer Program
Information for Faculty
Creating a faculty contract
Any part-time or full-time faculty member is eligible to create an honors contract with a student. An honors contract allows a student to go in-depth in an area of research related to your course. Any transfer-level course is eligible for an honors contract. If your student successfully completes their honors contract, indication of "Honors" will be added to their transcript for your course. Students who complete 5 or more contracts and meet other Honors Program requirements are eligible for transfer agreements with many colleges including UCLA, UCI and many other public and private colleges. Agreeing to mentor an honors project in your course is entirely optional.
What will I need to do as a mentor for an honors student?
Creating a Contract with Your Honors Student
As a mentor for an honors student, your first job will be to work with your honors student to create an honors contract proposal. This proposal indicates the nature of the honors project that a student will have to complete to earn honors credit for your course. For honors contracts that have a research paper as the only product of the project, the minimum length is 12 pages. Honors projects can take the form of any thing from a research project, to an experimental design and write-up, to the creation of work of art with a narrative describing how that art fits within the theory and practice of your discipline.
Your Student Submits an Honors Contract Proposal
It is the job of the student to submit the actual honors contract. Your student will draft an honors project proposal summary. If you agree to the proposal, your student will submit that honors project proposal summary when they submit their honors contract proposal form from our forms page. You can find samples of the honors project proposal summary on our page summarizing the honors proposal process.
Continued Mentorship of Your Honors Student
An honors project proposal is not just an agreement to additional work that a student will complete and submit to you at the end of the term. It is also an agreement that you will mentor and provide feedback to that student throughout the semester. Mentorship is an essential part of the honors program, and any honors project proposal that is approved must also indicate that you will be checking-in with the student at least every 2-3 weeks to provide feedback and advice, and to ensure that their project is progressing. For this reason the contract also requires that the student's project be broken up into several sub-steps with individual dates for completion. For example, a written research project might have separate dates where you evaluate the students research, notes, first half of the essay, second half of the essay, complete rough draft, and final draft.
Completing an Honors Project
Hopefully your student will successfully complete their honors project. If they complete their contract to your satisfaction, your student will then go to our Forms Page and complete the Honors Project Completion Survey. You will also receive an email from the Honors Program coordinator asking you to confirm that the student's completed project is, in fact, approved. As long as that student also completes your class with a grade of A or B, a designation of "Honors" will be added to the description of your course on their transcript.
Faculty Stipends for Mentoring Students
We are happy to announce that Academic Services has provided funds equivalent to 40 faculty stipends for each of the fall and spring semesters. These stipends entitle a faculty mentors to 2 F-Hours of pay when an honors student that they are mentoring successfully completes their honors project. We frequently have many more than 40 honors contracts created each term, so, unfortunately, not every completed honors contract can be awarded the stipend. The stipends will be allotted in the same order that the contract proposals are submitted. If you would like to know before creating a contract with a student if the stipends are still available, feel free to send a quick email to the Honors Transfer Program coordinator.
Due Dates for proposals and projects
Honors project proposals are usually due at the end of the third full week of classes. All paperwork is due on the last regular day of instruction before finals begin. Specific dates for this semester can be found on our forms page.
Frequently Asked Questions
What happens if a student drops their project or otherwise does not successfully complete their contract?
There is no automatic penalty to the student who does not successfully complete a contract. We do encourage all of our honors students to take their contracts very seriously because of the time and effort that you have committed to them as well. A student with several dropped contracts will be evaluated for continuation in the program.
Students in my class already complete a big and difficult project. Can I just add 5 pages to that project and have that count as an honors project?
No. Our transfer institutions are clear that any project that counts for honors has to be made entirely of work not already already required for regular students enrolled in the course. These institutions evaluate our contracts for compliance. It is probably best to create the project separate from any existing course projects. If the project overlaps with an existing project in your course, the student will be asked in their proposal to explicitly specify which aspects of the project are already required and which belong to the honors project. For example, an existing 10 page research paper would need to be expanded to 22 pages with additional expectations, and research elements not already contained in the project. Generally, creating a second companion project, rather than increasing the length of complexity of an existing project, tends to work better for the honors program.
How often do I need to meet with my honors student?
The program has an expectation that a student interact with their mentor at least every 2-3 weeks. These interactions can be in a traditional face-to-face meeting, via Zoom, email, or whatever platform makes the most sense in your situation.
What are my responsibilities vs. the student's responsibilities?
Mentors will:
Help set the parameters of the student's contract
Provide feedback to the student every 2-3 weeks
Approve the completed project
Reply to honors coordinator's email inquiry to confirm the project is completed
The student must:
Submit the honors contract proposal form
Complete the work on the schedule you two have determined
Revise and amend their work based on your supervision
Submit the honors contract completion survey
Why would I want to mentor an honors project?
Many faculty find that mentoring honors students is the most rewarding part of their year. Honors students are generally excited to learn and responsive to feedback. They are generally self-motivated and intellectually curious, and they often end up becoming majors in the discipline where they complete their honors projects. These projects help students build valuable skills for advanced university work, and completing the program provides access to transfer agreement with many selective colleges.
Thank you for your interest in the Honors Transfer Program and feel free to contact the Honors Transfer Program coordinator with any further questions.
For more information please contact: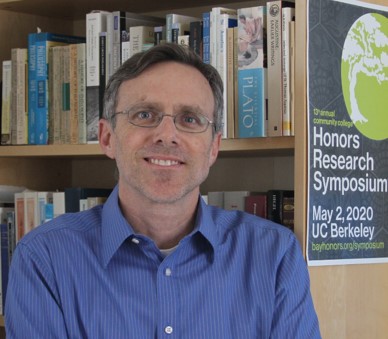 Jeremiah Bodnar
Program Coordinator
jbodnar@laspositascollege.edu

Office Locations
(Please check both during office hours)
Honors Office: Room 220-B
Honors Coordinator's Office (J. Bodnar): 270-K
Office Hours: Spring 2023

Monday & Wednesday: 11:30 AM - 12:30 PM
Tuesday & Thursday: 11:20 AM - 12:20 PM
Friday: 9:15 AM - 10:15 AM (Online only - Email for Zoom info.)
Key Deadlines, Fall 2022
Honors contract proposals due: Friday, February 3, 2023
Honors contracts completed, approved instructor, project completion survey submitted: Friday, May 19, 2023
Yearly Calendar
Our program runs in the fall and spring semesters but is not active in the summer term.