Bobby August Jr.
Bobby August Jr.
Mathematics & Theatre Professor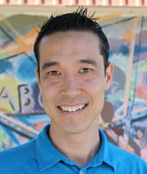 Hi there, I'm Bobby and I'm a full-time faculty member here at Las Positas college. I teach in both the Mathematics and Theatre departments. Feel free to read more about me and the classes that I'll be teaching. I'd love to see you in an upcoming class!
Mathematics: I received my B.S. in Applied Mathematics at Georgia Southern University. I completed an M.S. in Mathematics at Western Kentucky University. I love teaching Math and my favorite course to teach is Statistics. I tend to teach it every semester in online, hybrid, hyflex, and in-class formats. I utilize a 'flipped classroom' teaching model for all my on-campus Math classes.
Theatre: I earned am M.F.A. in Acting from the University of California, Davis and I've been a professional actor for several years now. You can visit BobbyAugust.com to learn more about my Acting background. I'm also the owner and director of the award-winning Made Up Theatre in Fremont. Our theatre specializes in presenting completely improvised plays. I'm also a faculty member of the Berkeley Rep School of Theatre and I really love teaching Acting and Improv classes.
Upcoming Classes that I'll be Teaching 23/24:
Fall 2023 Theatre Classes:
THEA 3A

THEA 3B

THEA 3C

Beginning Improvisation

Intermediate Improvisation

Improvisation in Performance

Tues/Thurs

Tues/Thurs

Tues/Thurs

9:30 - 10:45 am

9:30 - 10:45 am

9:30 - 10:45 am
Fall 2023 Math Classes:
| | | | |
| --- | --- | --- | --- |
| Math 40 A03/A04/A07 | Online Asynchronous Statistics | | |
| Math 40 HF4 | HyFlex Statistics | Tues/Thurs | 11 am |
Spring 2024 Math Classes:
| | | | |
| --- | --- | --- | --- |
| Math 40 A02/A05 | Online Asynchronous Statistics | | |
| Math 40 HF3 | HyFlex Statistics | Mon/Wed/Fri | 11:30 am |