Ashley Young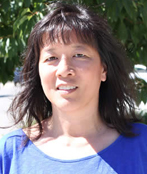 B.A., Statistics, University of California, Berkeley
M.S., Applied Mathematics, California State University, East Bay
Teaching Credential, California State University, East Bay
As child I loved to play school where I actually created lessons to teach math to my friends. This was short lived as my friends were less enthusiastic about this than I was. My love for teaching was reawakened when I helped coach soccer at a low income HS in San Francisco and tutored students to keep them eligible. In particular I love seeing people who think they can't do math, realize that they can. That is one of the reasons I am drawn to the SLAM (non-STEM) math courses.
Even though coaching was in my 20's, I still did not turn to teaching right away. I still had not finished my Bachelor's Degree as I had originally been accepted to UC Berkeley as an Electrical Engineering/Computer Science major, but had not put school first and had gotten kicked out. I actually got kicked out two more times, once after about 5 years later, but I was still not ready to be a student and soon was kicked out again. Finally, about 10 years after I started, I was ready to be a student so I was accepted back in only to realize that I dislike electrical engineering, so once more I was kicked out with the condition of being reaccepted if I changed majors to Letters and Science, and completed my lower division requirements. I switched to Statistics, finished up my first 2 years at DVC, and then completed my degree at Berkeley.
Along the way I had several jobs: temporary work delivering phone books, seasonal work at UPS, working at a software company, dealing poker at a casino, dealing blackjack and baccarat at a local cardroom, playing poker for a living for a couple years, and several small businesses selling beanie babies and italian charm bracelets in carts in malls, and opening a gelato shop. None of these give me the enjoyment that teaching here does. After 2 decades of "wandering" I am certain that this is what I am meant to do, though I think those experiences all had value and have led me to where I am now.
My classes focus on the fact that students learn best by talking and explaining to others. Memory works by creating mental structures. The reason why explaining is more difficult than knowing something is that by putting it into your own words, you are forced to create a clearer mental structure, which then is easier to retrieve from memory. Working with classmates and discussing with them in class is central to my course. You will have more one-on-one time with each other and thus will learn more from working together than you will from me. Your classmates are your teammates and we all need to work together to help everyone learn. Thus it is critical that everyone feels valued, safe, and appreciated for who they are and what they bring to our class.