GIS
Geographic Information Systems (GIS)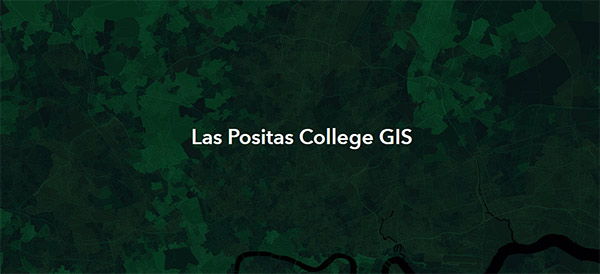 The ESRI ARCGIS Las Positas College GIS Homescreen.
The LPC Geography department offers Geography 15: Introduction to GIS every Spring semester to students. Due to the current pandemic situation, this class is being offered remotely, but typically is offered on campus in lab room 1859.
GEOG 15: Introduction to GIS

3 units

Study of Geographic Information Systems (GIS) science and its applications to spatial data management. Identification and acquisition of GIS data. Assessment of vector and raster systems, scale, resolution, map projection, coordinate systems, georeferencing and Global Positioning Systems (GPS). Spatial analysis and modeling with GIS.

AA/AS GE. Transfer: CSU, UC; CSU GE: D5; C-ID# GEOG 155.
Degree Applicable, Credit Grading Option: GR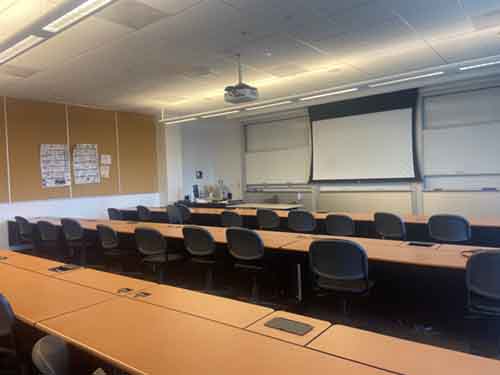 The GIS lab room on campus in room 1859.
What is GIS?

ESRI ArcGIS Logo
GIS is known as a spatial network that creates, manages, analyzes, and maps data.
According to the ESRI website,
"A geographic information system (GIS) is a system that creates, manages, analyzes, and maps all types of data. GIS connects data to a map, integrating location data with all types of descriptive information. This provides a foundation for mapping and analysis that is used in science and almost every industry. GIS helps users understand patterns, relationships, and geographic context. The benefits include improved communication and efficiency as well as better management and decision making."
People in a variety of professions use maps to transfer information. To create maps, skills in cartography are important. Google maps is one of the best examples for web-based GIS mapping.
How is GIS Being Used?
Urban Planning

Land Information Systems

Surveying

Land Use Changes

Land Administration
Careers in GIS
ESRI Career Search for Jobs in GIS Field
Additional Resources