Catherine "Katie" Eagan, Ph.D
Catherine "Katie" Eagan, Ph.D
Professor, English, A & H
Monday from 3:30-4:30 pm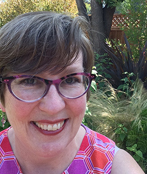 BA, English from UC Berkeley

BA, History from UC Berkeley

PhD in English from Boston College
My name is Katie Eagan, and I enjoy living an interdisciplinary life at LPC: I teach English for the Arts and Humanities division, and I coordinate Global Studies for the Business, Social Sciences, and Learning Resources division. I also have a "faculty service agreement" (FSA) that allows me to teach history, but I haven't done so at LPC yet! This FSA was granted because I double majored in English and history as an undergraduate at U.C. Berkeley, and my graduate work in the Irish Studies and American Studies programs at Boston College meant that my literature coursework and the research for my publications involved lots of reading of history and sociology. At LPC, I teach composition, critical thinking, and literature classes. In my spare time, I do transnational research on the racial formation of Irish identity, and as part of that research, I look at intersections between the Irish and African diasporas around the world.
This background explains the themes for my courses; for example, my English 1A class has a theme of race and racial politics in the United States, and my English 7 class looks at how imperialism and environmentalism share some common assumptions, namely that white westerners know what is best for the land. (Thankfully, environmentalism is changing in this regard!) I enjoy helping students put contrasting ideologies in dialogue with each other and bring their critical thinking skills and their values to bear on the analysis and assessment of others' arguments. During my 2016-2017 sabbatical year and in the year following, I began work on globalizing the curriculum at LPC; in the spring of 2017, I taught American Studies as a Fulbright scholar at the University of Zagreb, Croatia. My experience teaching in Croatia and my year abroad in Ireland as an undergraduate has inspired me to lead three summer trips to Europe with LPC students. For information on my June 2023 trip, visit the travel section of LPC's Community Education webpage.
Students who are visiting my page because they want some advice on choosing an educational pathway might review my publications and brief foray into blogging on my website: http://lpc1.clpccd.cc.ca.us/lpc/ceagan/ . Many doctorate holders teach at four-year institutions, but if you think you might like teaching, you will be interested to know that many of them teach at community colleges, too! If you'd like to contact me to discuss your pathway in A & H or BSSL, please join my Zoom office on Mondays from 3:30 pm-4:30 pm. Students who are currently taking a course from me can sign up for any of my regularly scheduled office hours or send a message through the Canvas Inbox to suggest some times that would work better for them. If you are contacting me for another reason, please use the email address above, and we can set up a time to talk!