Moh Daoud
Computer Networking Technology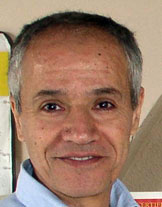 AS Avionics, College of San Mateo
AS Electronics Technology, College of San Mateo
BSEE Telecommunications, ENET Paris, France
Subjects Taught:
Computer Networking Technology
Computer Information Systems
After graduating from college in France, Mr. Daoud came to Atlanta where he worked on a team that designed satellite modems for MCI. He ran a successful TV repair business and later operated and maintained the electronics equipment onboard of merchant marine ships. Soon Daoud came to California where he worked as a director of technical services for a PSI, an Audio/Visual company in Foster City, CA, which he helped grow into one of the largest A/V companies in Northern California. He left PSI to work for UPS and later UC Berkeley.
While working at UC Berkeley in the IT department, Daoud taught at Lanop, a test preparation center for I.T. professionals who wanted to pass the Microsoft and Novell Certifications. He enjoyed teaching so much that he took a full-time job at Silicon Valley College.
Soon he found his way to Las Positas College, "the most beautiful college in the Bay Area," he says. "I love the cows, the hills, the vineyards. And the college is always eager to make sure students have the latest hardware and software to train on." When asked if he likes his job, Daoud replied that "It's not a job, it's a calling. I can't believe they pay me to do this."