Rajeev Chopra, MBA, MS
Business Studies
Rajeev Chopra, MBA, MS
Department Coordinator and Instructor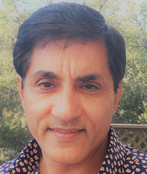 Hello current and prospective students. I am excited to be part of your educational journey at Las Positas College.
My educational background began in India with completing Bachelor's and Master's Degrees in Business. After completing the Master's program, I worked in my family business for a year and later joined a multinational company marketing and selling dyed yarn. During my three-year tenure at Vardhman Spinning Mills, I learned many aspects of yarn production and sales, including preparing sales bids and quotas, procuring raw materials, managing production and dying schedules, and negotiating dealership contracts.
After completing a Master's Degree in Accounting and Income Tax at CSU East Bay, I worked for Grant Thornton and Chevron Corporation. During the 20-year span, I worked on corporate tax returns, analyzed financial statements, analyzed audit work papers, prepared nonprofit and individual tax returns, and accounted for revenue from oil and gas fields.
I started my teaching career as a part-time faculty member at Chabot College and CSU East Bay. During that time, I had the opportunity to teach students from different walks of life, including returning students, veterans, and first-time college students. While I was teaching part-time, I continued working full-time as a tax consultant.
I joined Business Department at LPC for a fulltime position in 2007 and enjoy all aspects of teaching—in particular, getting to know my students and see them progress. I find every semester to be a new beginning and am excited to get to know new faces and names and work with varied learning styles. In addition to teaching, I advised Business Club on campus for six years and encourage everyone to explore this opportunity.
When I am not working, I enjoy hiking, biking, playing golf, reading, and travelling. I welcome you all on this journey of learning and exploration at LPC.
I primarily teach Financial & Managerial Accounting, Business Math, Income Tax, and Accounting for Small Businesses.