Christina Nystrom
Business Studies
Christina Nystrom
Part-Time Professor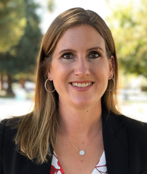 Hello Las Positas College students!
I grew up in the Bay Area and took courses at Las Positas while in high school. Being a Las Positas student is something we have in common!
As a part-time faculty member, I teach courses including Decision Making and Problem Solving, Team Building, and Developing Your Business Plan. Winston Churchill said "Attitude is a little thing that makes a big difference." I couldn't agree more! I know that by focusing on positives, reframing our perspectives, and drawing on positive attitude tips and tricks, we can improve our outlook and increase success in our lives.
I have a business degree from Georgetown University and served as an intern on Capitol Hill during my time in Washington DC. I worked for PricewaterhouseCoopers in audit and consulting before becoming the Financial Reporting Manager for a local Fortune 500 company. I also perform consulting projects through my own business.
I am currently the Treasurer on the Board of Directors of a local nonprofit and have been the chairperson for a local Economic Vitality Committee for 2 years. I am very involved in my community and know that we each have the power to make our community better by showing kindness, smiling, working hard, and sharing our strengths.
I have an international family with roots in Cuba, Sweden, China, India, and Germany. I love learning about different cultures and perspectives. When I am not working, I enjoy adventuring in the Bay Area with my two kids, riding bikes, hiking, going to the beach, and spending time with friends.​