TechConnect Zoom Student Information
TechConnect Zoom Student Information
TechConnect Zoom is a tool within Canvas that allows instructors and students to communicate with each other in real time. If enabled within your Canvas course, students can just click the TechConnect Zoom link in the course navigation at the appointed time to access this web conferencing software. Your instructor may also choose to provide a link on a page within the course.
The following are technical instructions. For TechConnect Zoom etiquette, view Top 10 Tips for Good Zoom Hygiene and Etiquette in Education.
Test TechConnect Zoom First
Prior to that appointed time, students should test TechConnect Zoom to make sure it is working properly. Join Meeting Test. If you haven't used TechConnect Zoom before, follow the on-screen instructions to download and open the Zoom software and join the meeting. You will be the only participant in the meeting.
To see the controls for the meeting, move your cursor to the bottom of the screen.

Using TechConnect Zoom in Canvas
For a meeting scheduled by your instructor, access your Canvas course, and click TechConnect Zoom in the course navigation menu.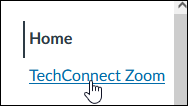 Click the Join button.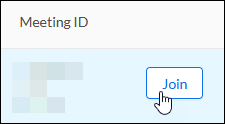 TechConnect Zoom Resources