Nadiyah Taylor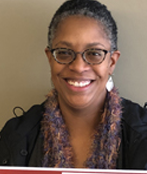 Biography
I'm really excited that you found my webpage! Teaching is important! No one has a job without having had teachers along the way. We are the backbone of society. Working with our youngest children sets them off on the right foot and you can be an important part of their journey. Join us! We want to support your personal journey as a parent, infant/toddler, preschool, elementary teacher or college instructor. Stop by building 2300 and say hello.
Check out the ECE website.
About Me
I work in the Early Care and Education department and have been here since 2009. I have a passion for teaching, both children and adults. I am really lucky to be married to a preschool teacher who helps me to stay current with the daily work of teachers, and I also have children in elementary school and college. Each of them keeps me grounded in what it's like to be a student and a teacher, so I can keep it real in my classes. I like to laugh and have an enjoyable time in class. I try to be kind and take each student individually. I have high standards for the work but I know each student can meet and exceed these standards, and I'm here to help make that happen.
My passion is social justice education for all ages. To me this means that every student deserves a great education that meets their cultural, personal and developmental needs and to be with teachers who care about them, their families and all the strengths that they bring to the classroom. This goes for children and adults.
I have been working in the field of ECE since 1990. I have taught children from infants up through 11-year-olds, held parent workshops and parent-child classes. For the last 15 years, I have worked as a diversity/equity consultant to schools, conducting workshops and consultation on anti-bias education and family relationships. I've also had a chance to do some writing and have a piece in the 2020 "Anti-Bias Education for Young Children and Ourselves" book, as well as some articles through Child Care Exchange. I am the chair of the ECE department, chair of the Program Review committee, co-lead of the Student Success teams and the board of our union. So, lots of meetings. BUT, I am here and available.
My Educational Background
B.A. in psychology from Macalester College
M.A. in Human Development, minor in bicultural development from Pacific Oaks College
Social Media
I'm not on social media too much but you can find me on Twitter @ecediversity.
Office Hours, Fall 2022
Wednesday evenings, 5:30 - 6:20 pm
Student Success Office Hours. 3:00 - 4:00 pm, room 2324 and on Zoom