Jobs
Job & Career for Veterans
JOB POSTINGS
BLOOMENERGY
The three positions we are hiring for in manufacturing and maintenance are listed below with some key highlights about these career opportunities.
Assembly Technicians (270 openings);
Maintenance Technicians (30 openings);
Remote Monitoring Center Control Technicians (20-30 openings);
A few highlights about our Assembly Technician positions:
Living Wages: The Assembly Technician careers, which do not require previous experience, have an hourly wage in the $21 to $23 dollar per hour range. The Maintenance Equipment Technician jobs, which require 5-7 years of experience, range in hourly pay between $32 and $45 per hour, based on experience;
Strong Benefits: Careers at Bloom include full health care benefits – medical, dental, vision - for the entire family
Generous Sign-on Bonus: We are currently offering a $3,000 bonus ((half paid out at 90 days, and the other half paid out at 6 months);
Training: At Bloom's expense, we invest in training to further ensure the success of new employees, with training that averages roughly $2,600 per new employee;
Career Growth: Bloom Energy promotes internally and successful employees have opportunities for career advancement within our company and the clean energy industry.
Joining a Great Team: Employees are entering into an exciting and growing industry that will be vital to addressing the collective challenges of climate change and air pollution
I have attached job descriptions for our three manufacturing roles and a flyer for the assembly technician role. Interested candidates can apply to these positions and explore all opportunities available here: Careers - Bloom Energy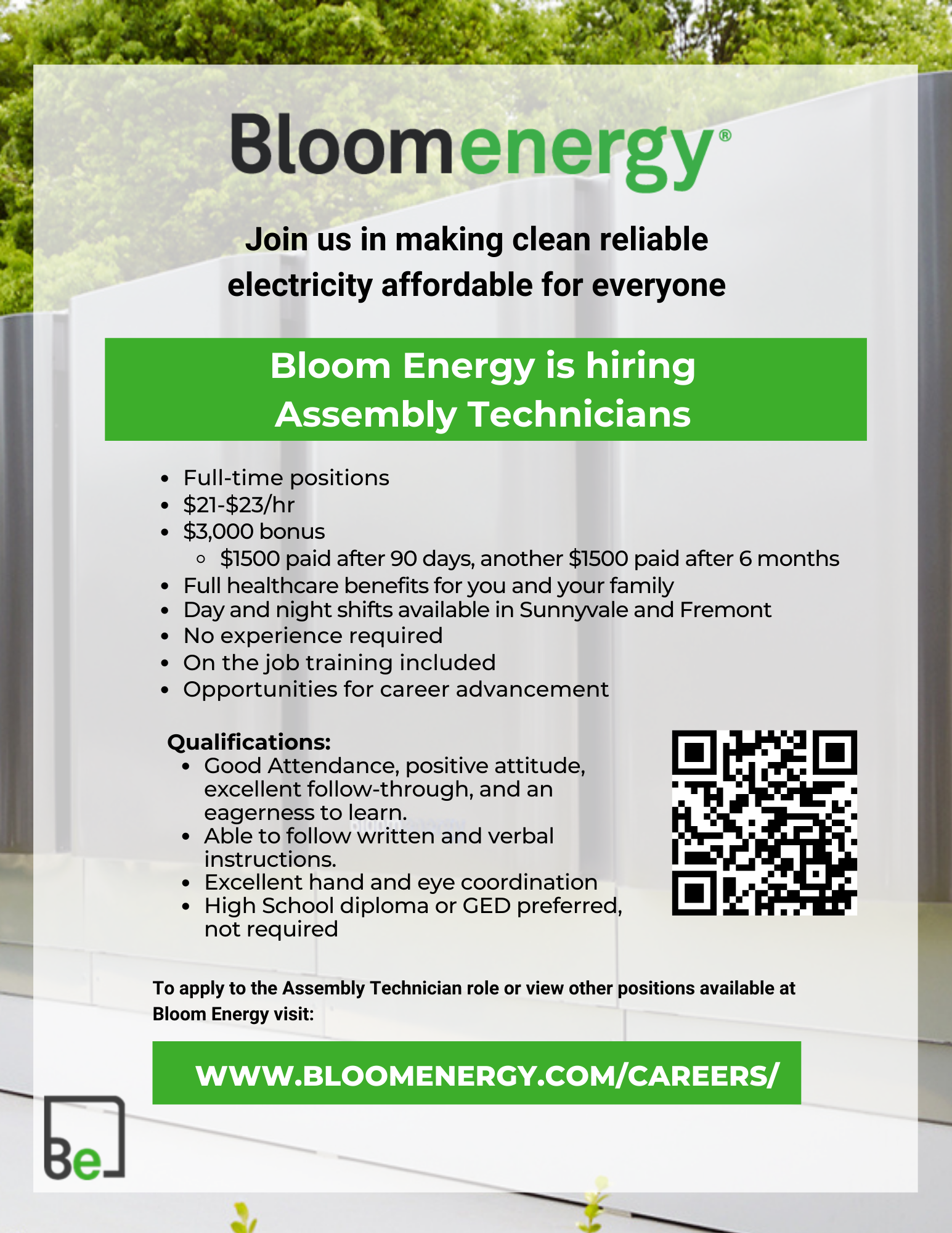 RESOURCES
LAS POSITAS COLLEGE CAREER & EMPLOYMENT CENTER
Las Positas College Career & Employment Center providing students and alumni with resources to achieve their career and employment aspirations.
Hire Heroes USA: Provide free job search assistance to U.S. military members, veterans and military spouses, and we help companies connect with opportunities to hire them. To sign up for their free services, please click this link : https://mytrak.hireheroesusa.org/s/login/SelfRegister
Video Recap of Resume Workshop - By Golden State Warriors