UndocuAlly Resources and Past Events
UndocuAlly Resources
Rafael Valle
Puente Counselor and Chair of the UndocuAlly Task Force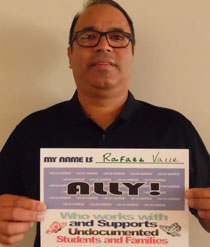 ------------------------------------------------------------------
Alain Olavarrieta
Math Faculty and Co-Chair of the UndocuAlly Task Force
aolavarrieta@laspositascollege.edu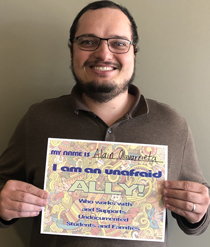 ---------------------------------------------------------------
UndocuAlly Task Force Mission Statement
UndocuAlly Task Force Accomplishments
Other UndocuAlly Resources
Do you want to learn more about policies, laws, and best practices of working with and supporting undocumented students? Please review the different recordings, PowerPoint Slides, and resources available for staff, faculty, and administrators.
Traveling on Advance Parole for DACA Recipients Webinar Recording
This webinar provided an overview of travel with Advance Parole, its requirements, suggestions to successfully apply, and risks to consider before traveling outside the United States, including prior removal orders, common grounds of inadmissibility, and other complications that could arise when traveling.
Dream Center Coordinator

Email: mpimentel@laspositascollege.edu
Phone: (925) 424-1052
Room: 1018

Spring 2023 Dream Center Hours
Tuesday 9:00 am – 6:00 pm
Wednesday 9:00 am – 4:00 pm
Thursday 9:00 am – 5:00 pm

Spring 2023 UndocuAlly Task Force Meetings: Second Monday of each Month from 2:00pm to 3:30pm
Meeting dates:
February 13

March 13

April 10

May 8
Follow Us

Instagram: @dreamcenterlpc
Facebook: Dream Center Las Positas College