Honors Eligibility Requirements
Honors Eligibility Requirements
Admission Requirements
Continuing students must meet the following criteria:
Cumulative Las Positas College GPA of 3.5 or higher, with a minimum 12 college units, or
The recommendation of a Las Positas College Instructor
First-time students entering from high school must meet the following criteria:
Have 3.75 or higher cumulative HIgh School GPA, and provide a copy of your high-school transcript, or
The recommendation of your high school counselor
If you do not meet these criteria, but feel you would be a good candidate for the program, please contact the honors director.
Continuation Requirements
To be a member in good standing:
Maintain a GPA of 3.5 or higher
Engage in at least one honors academic activity per year
Complete all honors activities with a minimum GPA of 3.0
To graduate from LPC as an Honors Scholar
Maintain a GPA of 3.5 or higher
Complete a minimum of 5 honors activities with a GPA of 3.0 or higher
Upon completion of all requirements for the Honors Transfer Program, honors students will receive special recognition at graduation.
For more information please contact: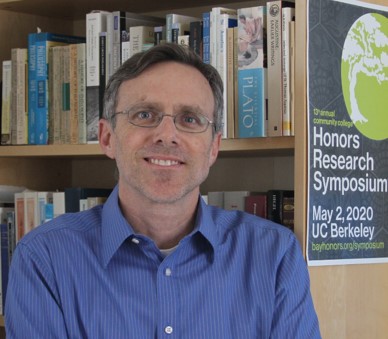 Jeremiah Bodnar
Program Coordinator
jbodnar@laspositascollege.edu

Office Locations
(Please check both during office hours)
Honors Office: Room 220-B
Honors Coordinator's Office (J. Bodnar): 270-K
Office Hours: Spring 2023

Monday & Wednesday: 11:30 AM - 12:30 PM
Tuesday & Thursday: 11:20 AM - 12:20 PM
Friday: 9:15 AM - 10:15 AM (Online only - Email for Zoom info.)
Key Deadlines, Fall 2022
Honors contract proposals due: Friday, February 3, 2023
Honors contracts completed, approved instructor, project completion survey submitted: Friday, May 19, 2023
Yearly Calendar
Our program runs in the fall and spring semesters but is not active in the summer term.