College Catalog 2023-2024
Degrees and Programs
Welcome to Las Positas College! LPC is rated the #1 community college in the Bay Area and the third-best in all of California! I am excited that you have decided to join us for the spring 2023 semester, to pursue your educational goals and career aspirations.
View a list of all degree and certificate programs offered at Las Positas.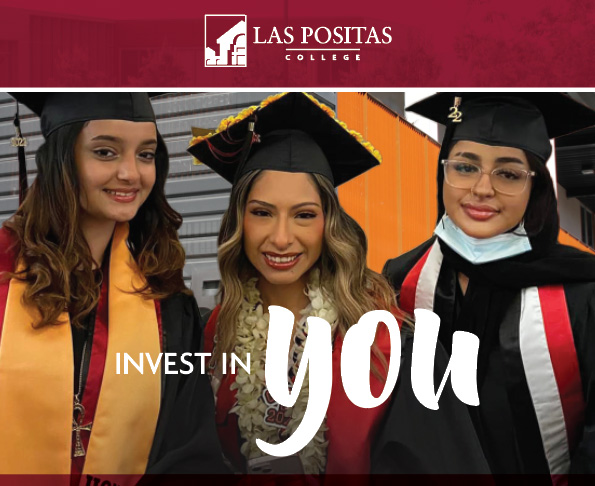 Nothing should stand in the way of your future. That's why financial aid is available to most students who need it. Get help paying for college costs like tuition and books to help you reach your educational and career goals.
Eligibility for Admission
Admission is open to anyone who is 18 years old or older; or a high school graduate or completed a high school equivalency test, General Education Degree (GED), or California High School Profi ciency Exam. A high school student currently enrolled in 10th, 11th or 12th grade may participate in the Concurrent Enrollment Program. Younger students may enroll through some slect special programs.
Although every effort has been made to assure the accuracy of the information in this Catalog, students and others who use this Catalog should note that laws, rules, and policies change from time to time and that these changes may alter the information contained in this publication. Changes may come in the form of statutes enacted by the Legislature, rules and policies adopted by the Board of Trustees of the Chabot-Las Positas Community College District, or by the Chancellor or designee of the institution.