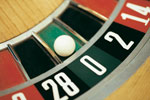 Gambling Addiction
Gambling addiction, also known as compulsive gambling, is a type of impulse-control disorder. Compulsive gamblers can't control the impulse to gamble, even when they know their gambling is hurting themselves or their loved ones. Gambling is all they can think about and all they want to do, no matter the consequences. Compulsive gamblers keep gambling whether they're up or down, broke or flush, happy or depressed. Even when they know the odds are against them, even when they can't afford to lose, people with a gambling addiction can't "stay off the bet."
Gamblers can have a problem, however, without being totally out of control. Problem gambling is any gambling behavior that disrupts your life. If you're preoccupied with gambling, spending more and more time and money on it, chasing losses, or gambling despite serious consequences, you have a gambling problem.
Symptoms
You may have a gambling problem if you:
Feel the need to be secretive about your gambling. You might gamble in secret or lie about how much you gamble, feeling others won't understand or that you will surprise them with a big win.
Have trouble controlling your gambling. Once you start gambling, can you walk away? Or are you compelled to gamble until you've spent your last dollar, upping your bets in a bid to win lost money back?
Gamble even when you don't have the money. A red flag is when you are getting more and more desperate to recoup your losses. You may gamble until you've spent your last dollar, and then move on to money you don't have- money to pay bills, credit cards, or things for your children. You may feel pushed to borrow, sell, or even steal things for gambling money. It's a vicious cycle. You may sincerely believe that gambling more money is the only way to win lost money back. But it only puts you further and further in the hole.
Family and friends are worried about you. Denial keeps problem gambling going. If friends and family are worried, listen to them carefully. Take a hard look at how gambling is affecting your life. It's not a sign of weakness to ask for help.
Self-Treatment
One way to stop yourself from problem gambling is to analyze what is needed for gambling to occur, work on removing these elements from your life and replace them with healthier choices. The four elements needed for problem gambling to continue are:
A decision: Before gambling occurs, the decision to gamble has been made. If you have an urge to gamble: stop what you are doing and call someone, think about the consequences to your actions, tell yourself to stop thinking about gambling, and find something else to do immediately.
Money: Gambling cannot occur without money. Get rid of your credit cards, let someone else be in charge of your money, have the bank make automatic payments for you, and keep a limited amount of cash on you at all times.
Time: Gambling cannot occur if you don't have the time. Schedule enjoyable recreational time for yourself that has nothing to do with gambling, find time for relaxation, and plan outings with your family.
A game: Without a game or activity to bet on there is no opportunity to gamble. Don't put yourself in tempting environments or locations. Tell the gambling establishments you frequent that you have a gambling problem and ask them to restrict you from betting at their casinos and establishments. Block online gambling sites on your computer.
Maintaining recovery from problem gambling or gambling addiction depends a lot on the reasons why you were gambling in the first place. Once you've quit gambling, reasons such as depression, loneliness, or boredom will remain, so in order to maintain your recovery, you'll need to address these problems. There are alternative behaviors you can substitute for gambling. Some examples include:
| Reason for Gambling | Sample Substitute Behaviors |
| --- | --- |
| To provide excitement, get a rush of adrenaline | Sport or a challenging hobby, such as mountain biking, rock climbing, or Go Kart racing |
| To be more social, overcome shyness | Counseling, enroll in a public speaking class, join a social group |
| To numb unpleasant feelings, not think about problems | Therapy, support group |
| Boredom or loneliness | Find something you're passionate about such as art, music, sports, or books then find others with the same interests |
| To relax after a stressful day | As little as 15 minutes of daily exercise can relieve stress. Or deep breathing, meditation, or massage |
| To solve money problems | The odds are always stacked against you, so it's far better to seek help with debts from a credit counselor. |
©Helpguide.org. All rights reserved. Full Article
Gambling Addiction Resources
Gamblers Anonymous: (855)-222-5542
Screening Test: Self-test offered by Gamblers Anonymous to help you determine whether your gambling has become a problem.
California Council on Problem Gambling: Non-profit organization dedicated to helping people affected by problem gambling. 24-hour helpline: (800) 426-2537
Gamblers Anonymous: Twelve-step program to support individuals to change compulsive gambling behavior. Website offers a broad range of problem gambling information and resources, including localized hotline information.
General Mental Health Resources
The menu on the right will link you to information on specific mental health topics. -->
Below are additional links to excellent websites for mental health information: